HYDROPOOL PROUDLY SPONSOR
THE TALISKER WHISKY ATLANTIC CHALLENGE
The Race
Alone on the ocean, with only effort to bring them home: Two of the U.K.'s finest in Peter Wright and Steve Hayes joined forces to row nearly 5,000 km across the Atlantic as part of the Talisker Whisky Atlantic Challenge, known as the world's toughest row. Their secret weapon? A Hydropool swim spa, which allowed to two men to swim, workout and and recover in as crucial elements of their training. Join us for a story of achievement and joy, exercise and recovery, brought to you by Hydropool Hot Tubs & Swim Spas and DragonFish row.
The Team
In December 2022, Pete and Steve, two Jersey based part time Endurance athletes (Team name: DRAGONFISH) commenced their biggest journey yet, testing their mental strength, physical endurance and friendship to the limits.
They rowed 3,000 miles across the Atlantic Ocean from La Gomera, Canary Islands to Antigua in the Talisker Whisky Atlantic Challenge. With extremely limited rowing experience at the time of writing (early 2021), Pete and Steve certainly raised the bar with this challenge .
Pete and Steve met through their new found love of Endurance events and their thirst for adventure in 2012. They have since gone on to compete in numerous events and challenges, both individually and together.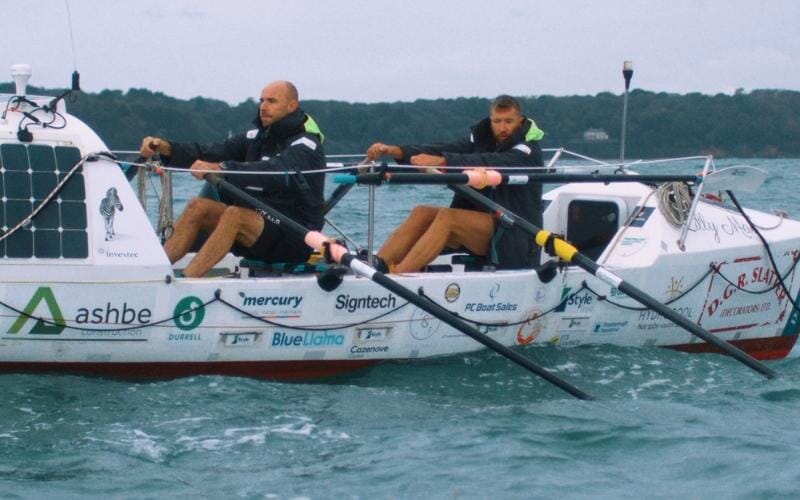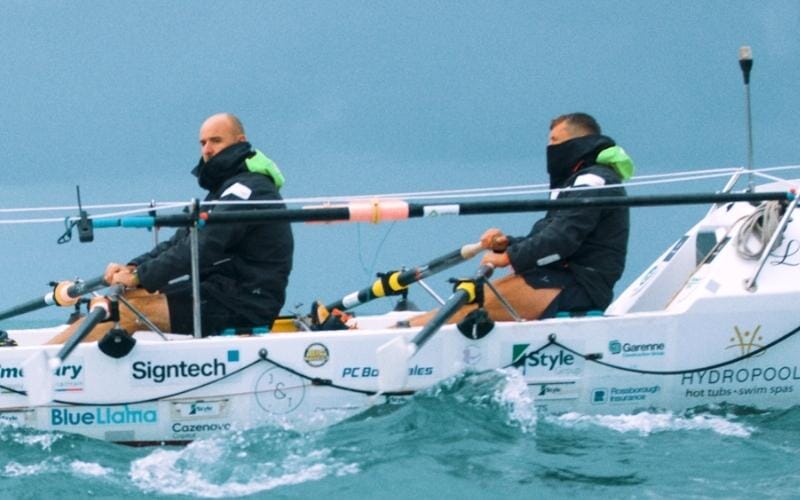 The challenges undertaken together have included a 6-day 250km ultra-marathon through the Amazon Jungle (Brazil), running the width of England non-stop, a 24 hour non-stop cycle ride and running around all of the Channel Islands over 3 days.
For this challenge, they will be pushing themselves to their mental and physical limits with a view to winning the race and raising much needed awareness and funds for two chosen charities. Durrell are the first charity to have been selected, with Pete and Steve wishing to support the first Rewild Carbon project in the Atlantic Forest of Brazil. The project aims to restore 4,500 hectares of vital forest corridors by 2030.
The other chosen charity will be nominated by the title sponsor.
The Boat
Sogno Atlantico is an Adkin ocean rowing boat, built in 2013 for TWAC2013, it raced in that year's edition as a pair, successfully completing the race and being one of the few boats not to capsize despite the challenging conditions at the start of the race. In November 2014 the boat was moved to Cantiere Costantini in Italy, a boatyard with over 100 years of experience in building and designing boats. For the next 12 months Sogno Atlantico underwent extensive work to upgrade the electrical equipment and optimize her performance as a solo boat. In 2015, the boat made her second successful Atlantic crossing, this time crossing in 52 days. Sogno Atlantico won the solo category, beating all other solos, including the newly designed Rannoch and Rossiter solo boats.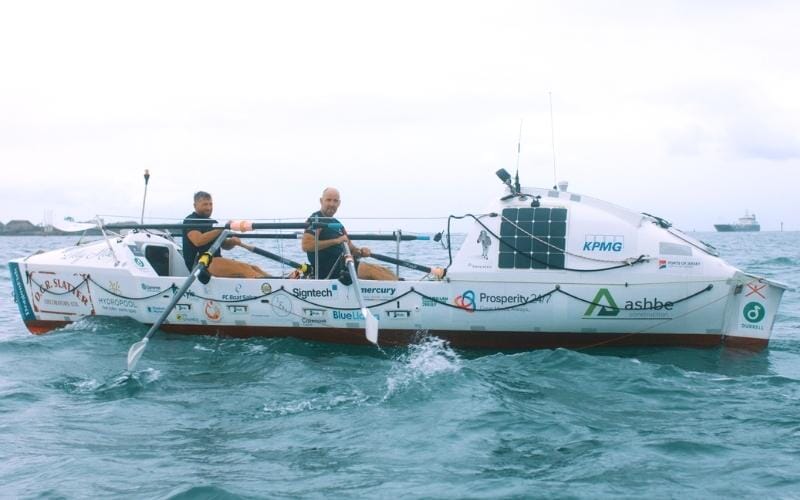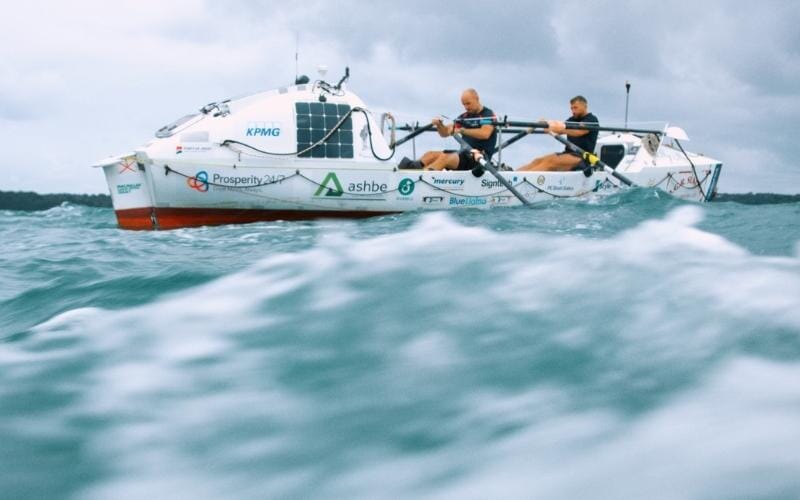 The boat is fast and stable. Sogno Atlantico did not capsize during her second crossing and reached a maximum speed of 15 knots while surfing waves. She was rowed across the Atlantic again in 2018 by two French rowers in 52 days. Most recently, she completed another Atlantic crossing in January 2021 with Frenchmen Giulem and Lilian in the boats fastest time yet, 47 days. Preparing to row the Atlanic Ocean takes time, training and money. On average, the rowers need to raise between £90,000 and £110,000 per campaign in order to get to the start line. Sponsoring a team's challenge gives companies and brands the opportunity to align with a project that represents the core values of their business.
Why Hydropool?
Recovery
The race itself requires 1.5 million oar strokes. But that's not counting practice. DragonFish row teammates learned early that you can't solve every problem with sheer effort. Putting a new emphasis on recovery from their extensive workouts helped the two athletes become faster and better prepared for what lay ahead.
Swim Spa vs Swimming Pool
"I'd use a swim spa daily if I could," says DragonFish row team member Steve Hayes, who did use one leading up to the journey across the Atlantic. A swim spa is capable of doing anything a pool – or the open ocean – can do, echoes teammate Peter Wright, as the two explain how the swim spa became central to their training.
Unique Qualities
Due to the swim spa being self-cleaning, DragonFish Row teammates had more time to prepare for the race and were able to spend less time fussing around with skimmers cleaning a pool. Many of Hydropool's Hot Tubs and Swim Spas feature unique self-cleaning properties, a patented feature exclusive to the brand.
The Cause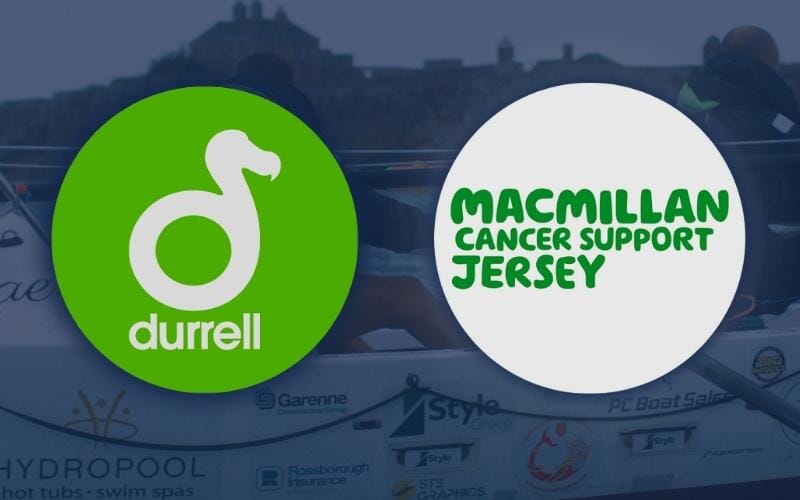 Charity One: DURRELL
The fundraising journey starts with the first chosen charity, Durrell. Fundraising began in 2015 when DragonFish competed in a 150 mile 6-day ultramarathon through the Amazon Forest of Brazil. They are passionate about conservation and supporting the first Rewild Carbon project in the Atlantic Forest of Brazil. The project aims to restore 4,500 hectares of vital forest corridors by 2030.
Charity Two: MACMILLAN
Like so many, they have been exposed to the horrors of Cancer over the past few years. The second chosen charity, Macmillan Jersey, has become a necessary part of life and that of so many other islanders. Macmillan are there to offer support to people in Jersey with any type of cancer and at any stage.
Show Your Support
You can show your support and donate to these causes at dragonfishrow.com. Simply hit the button below to learn more and donate now.
Find Your Perfect Swim Spa
Looking for your ideal swim spa? Click here to learn more.