The Right Hot Tub Installation For You
INSTALLING YOUR HOT TUB – WHICH WAY IS RIGHT FOR YOU?
One of the most underappreciated aspects of buying a hot tub is the installation itself. For example, whether placed indoors or outdoors, hot tubs need a certain amount of space around them for servicing and access.
Thinking about what type of installation you want can be a fun part of the process, but some options can come with extra considerations.
FIND YOUR PERFECT HOT TUB WITH OUR ONLINE TOOL
SITE INSPECTION
One of the first things to deal with before installing your hot tub is making sure the space you have is correct for the hot tub you've bought. Speaking to your retailer about this is the best way to solve any issues that might arise before the delivery date. A pre-installation site inspection is always recommended and can be done either face to face or remotely via video call.
Your dealer will likely visit your property and assess the area you're planning to put your hot tub in. Preparing for this is key as there's a lot to consider regarding access, connectivity, and other logistical challenges that may arise.
Your dealer will likely visit your property and assess the area you're planning to put your hot tub in. Preparing for this is key as there's a lot to consider regarding access, connectivity, and other logistical challenges that may arise.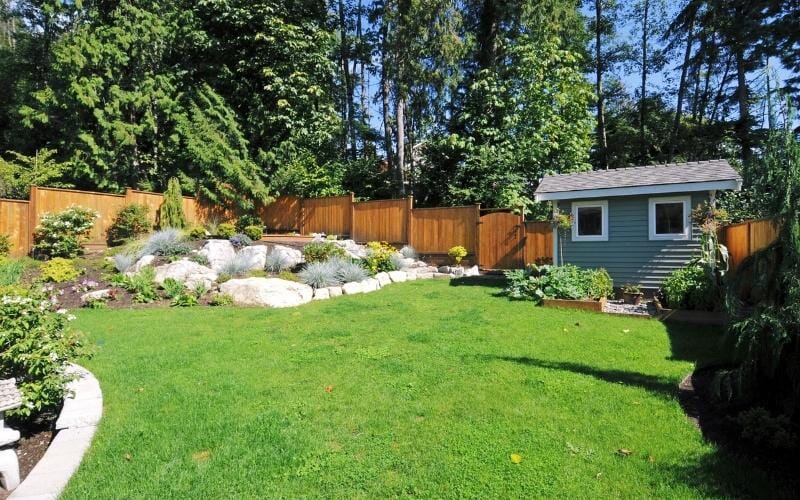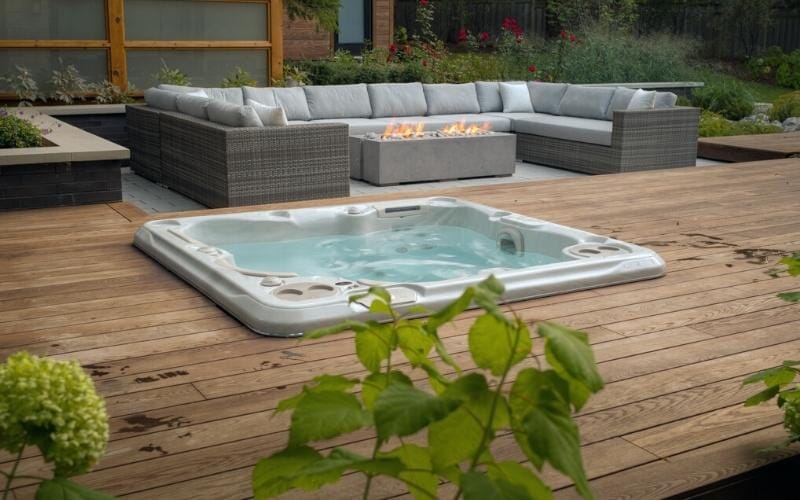 IN DECKING
A sunken or in ground hot tub installation is one possibility. Not only is this a great way to showcase your hot tub, with an impressive layout of your garden or indoor space, but it can make getting in and out much easier. With the top being at ground level you can simply step down into it, making it more convenient for all your guests.
However, being installed in decking can cause difficulties when it comes to maintenance or repair. If the decking completely surrounds the hot tub, this could lead to problems when an engineer needs to access the inside for servicing a part or fixing a fault. We recommend that you talk with your retailer during the site inspection to cover this topic and how best to deal with it.
If you're thinking this might cause more hassle than it's worth, a great alternative is to install your hot tub in the corner or side of the decking. This allows greater access and removes potential headaches when service is needed, as well as enabling the hot tub to be slid out entirely if necessary.
If you're set on doing an in-deck installation, it's worth investing in a removable panel or trapdoor if the front of the hot tub is against the deck. This will allow easier access and create fewer issues while avoiding the need to potentially move your hot tub.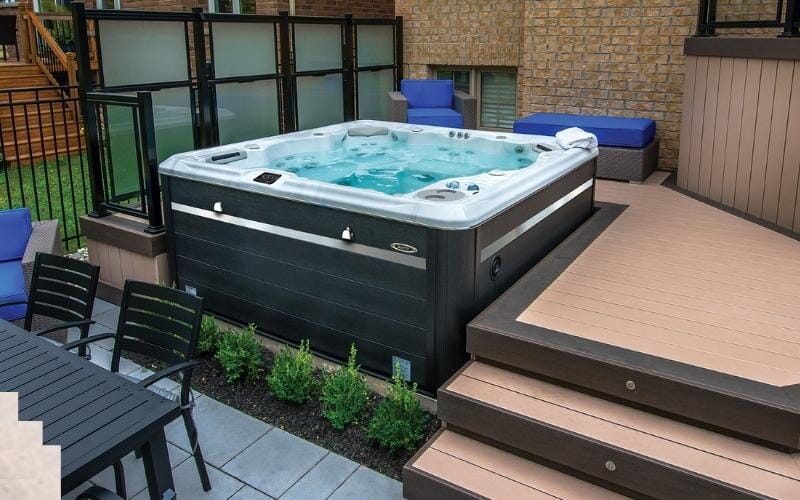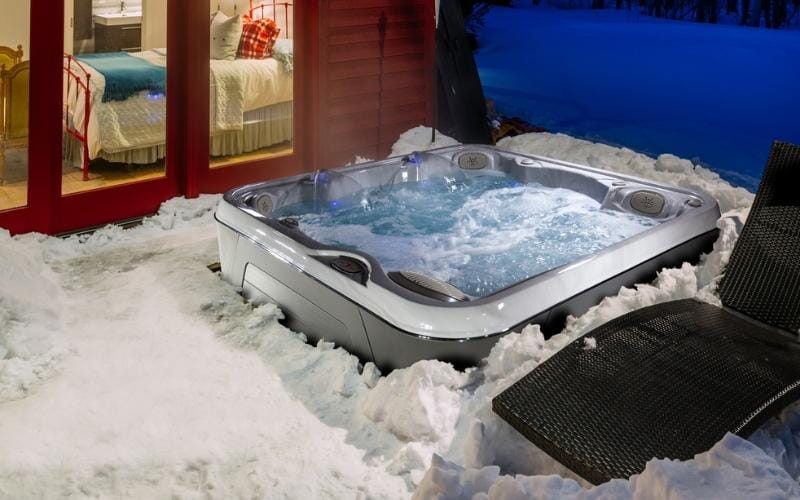 SEMI-RECESSED
Semi-recessed installations require similar considerations to those you would have with an in-deck one; the semi-sunken nature of the installation means you'll have to think about access for servicing. Additionally, these types of installations require extra work to ensure the hot tub is safe from any damage in the long term.
A factor that might not be apparent right away is the surrounding area. Semi-recessed installations built in-ground will need a vault to hold the earth around the hot tub and stop the area around it from acting as a pool. A concrete base along with a concrete retaining wall will also be required to ensure the hot tub is secure and is protected from erosion.
It's key to remember this is an additional cost to the hot tub purchase and delivery, and is worth considering how much extra you might have to pay for this. Your retailer might be able to help with this, or you may need to contact a builder for an accurate quote.
FREE STANDING
By far the easiest type of installation is the free-standing one. This still requires planning, but nowhere near as much as a semi-recessed or in-deck would. Firstly, the concerns requiring access for servicing and maintenance aren't relevant as all sides of the hot tub will be open with a free-standing installation. Alongside this, it's also the cheapest option.
Secondly, this poses fewer challenges both during the installation of your hot tub but also if you move house and wish to take it with you. Furthermore, in the long term any servicing can be done without needing to slide the hot tub out to access equipment or reach specific areas.
However, a free-standing installation will still need to have the hot tub placed on a level area with an indoor hot tub will be easier due to the flat surface inside your home. This can take the form of a concrete base or something like gravel, but whatever you choose, it must be level and stay level. This ensures not only that it's safe and reliable but also that you maximise your hot tub experience.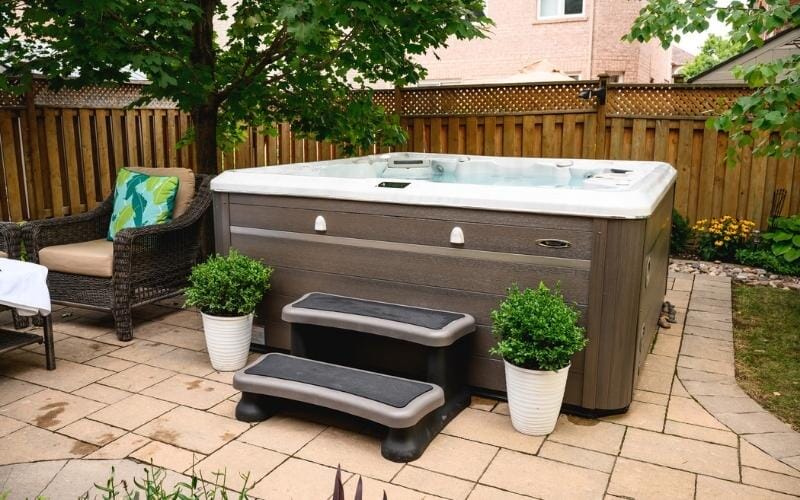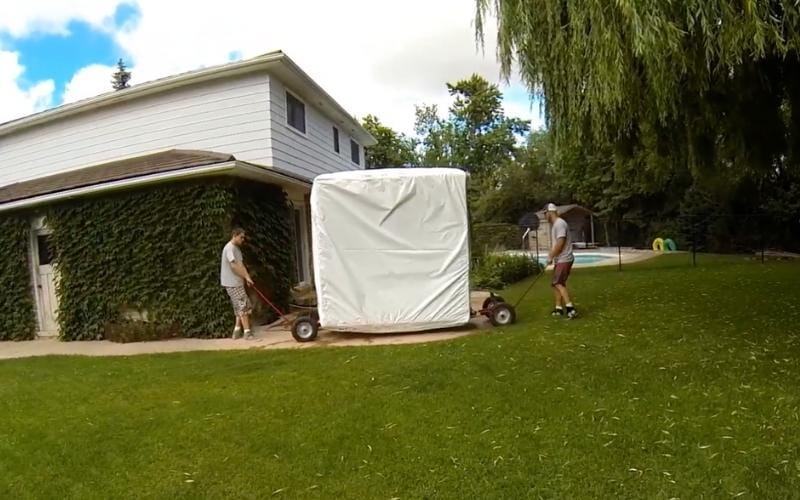 HOW DO HOT TUBS GET DELIVERED?
In most cases, a retailer will be able to deliver the hot tub and during your site inspection will have assessed the easiest way of doing so. If they can't deliver it themselves due to any restrictions, they'll inform you of how the delivery will take place.
A delivery service may be used where a retailer cannot deliver and install the hot tub themselves. These trained professionals will make sure your hot tub is set up and in working order so you can start enjoying it sooner. Deliveries can be made in all seasons but may incur further costs during extreme weather. Confer with your retailer, who will be able to tell you how this will take place.
Hot tubs can be delivered on their side via a crane-and-winch system, or in some cases, a forklift truck. The most convenient way is through direct back garden access, if it's wide enough. This is the swiftest way of getting your hot tub in-situ and sliding it in on rollers can lead to a rapid install . When this isn't possible, arrangements will be made to find the simplest solution to delivering and installing your hot tub.
HOW MUCH WILL DELIVERY COST?
As with anything you buy, there are additional delivery costs on large items such as a hot tub. If you have opted for a sunken, in deck or semi-recessed installation, there will be greater expense due to various additional safety and technical factors. Issues regarding groundwater, vault creation, and potentially laying of concrete prior to delivery will all need to be accounted for.
It's prudent to consider these extra costs, as failure to sufficiently protect the hot tub and surrounding area could lead to more outlay in the long term, with cabinet erosion, malfunctioning parts and environmental concerns all potential risks. Using your hot tub to create a fantastic looking garden or centrepiece for your decking can tie in your whole house or property and add multiple levels of value. Talking to your retailer about the possibilities is the best way to ensure you're fully aware of the process and any additional concerns to think about.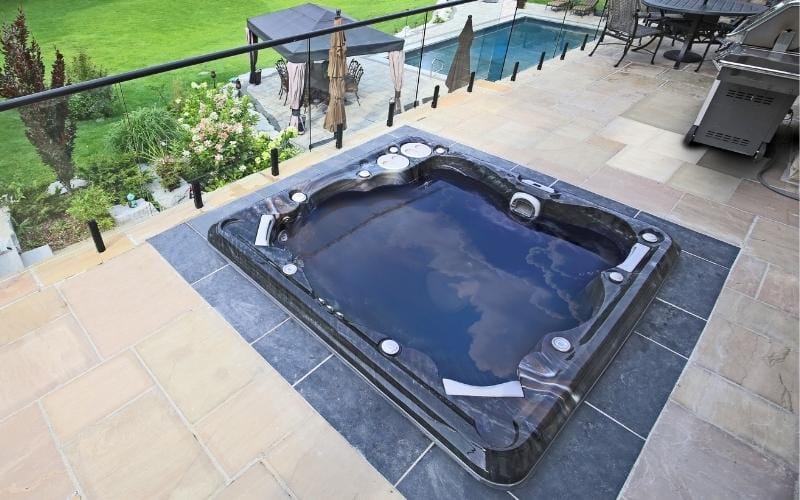 Find Your Nearest Hydropool Showroom
Discover the Hydropool hot tub or swim spa that's right for you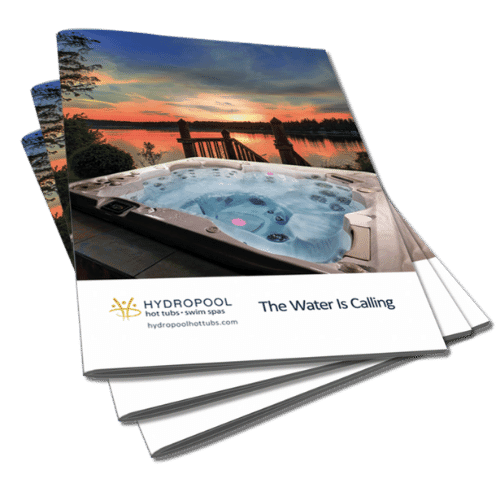 Download Our Brochure
Every Hydropool hot tub and swim spa is designed to deliver a fantastic experience. Whether you're looking for a relaxing hydromassage, a space to enjoy with family and friends, or you're looking to improve general fitness or athletic performance in our swim spas – we have a model to meet your needs. Download your brochure now.
Download Our Buyers Guide
Whether you are looking for a hot tub to relieve stress and ease pain, or a swim spa for keeping active, or you simply don't yet know what you're looking for, our buyer's guide is the perfect place to begin. Here to help with your planning, our guide helps you get a little deeper into the specifications, benefits, and features of the Hydropool hot tub and swim spa collections. Download your buyer's guide now.