Hot Tub Massage – Which Kind Is Best For Me?
WHAT KIND OF HYDROTHERAPY MASSAGE SHOULD I LOOK FOR?
The kind of massage you look for in a hot tub will vary from person to person, as everyone is searching for something different and specific to their needs; whether it be relieving aches and pains, recovery from intensive exercise or creating a moment of mental stillness.
Massage types differ from brand to brand, with some emphasising quality and variation while others focus on different areas. Here we'll be explaining some of the key things to consider when thinking about what kind of massage you should be looking for when purchasing a hot tub.
FIND YOUR PERFECT HOT TUB WITH OUR ONLINE TOOL
WHAT KIND OF HYDROTHERAPY EXERIENCE CAN I EXPECT FROM A HOT TUB?
One of the most important questions to ask when buying a hot tub is what kind of hydrotherapy experience you are going to get. When it comes to Hydropool, the short answer is: an incredible one. No matter whether it's a three-person hot tub or a nine-person model you choose, you'll never experience an inferior massage. The principle differences between the collections come down to the variety and intensity of the massage you can experience.
Our Classic Collection offers an inviting, soothing massage in a square hot tub design delivering the therapy through a series of smaller jets and a single pump while offering a two-speed system for both high and low intensity.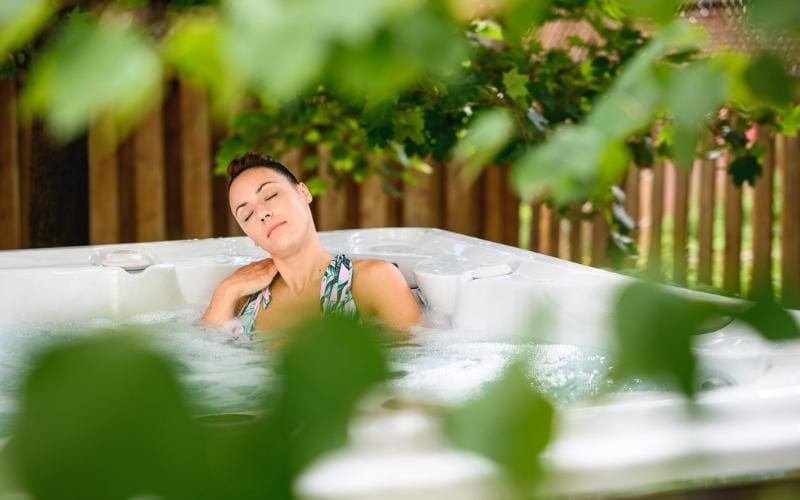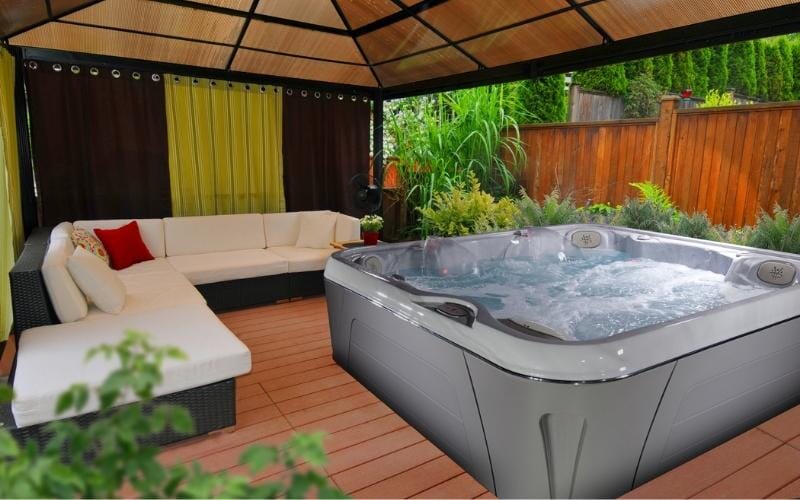 Similarly, the Serenity Collection offers the same two-speed massage through a one pump system but with a greater selection and size of jets. The main reason for this is that the single pump models have more than double the water output volume, while larger hot tub sizes in the Serenity collection have two jet pumps to provide a well-rounded and invigorating massage throughout the unit.
Serenity hot tubs also features our unique Hydropool zone therapy, specifically designed in partnership with physiotherapists to provide maximum effectiveness in targeting specific muscle groups and areas of your body when receiving a massage.
The Signature Self-Cleaning Collection takes this one step further, however, giving you complete control over the massage you want and providing you with the ultimate massage diversity and experience. Each model in the series comes with a complete wellness guide, exploring the full range of hydromassages on offer.
The Platinum and Titanium models feature exclusive hydromassage programmes through our HydroTher control system. Featuring a broad and deep selection of massage programmes targeting areas such as the head, feet, arms, back and legs, the pre-programmed hydromassages are guaranteed to leave you feeling rejuvenated and revitalised.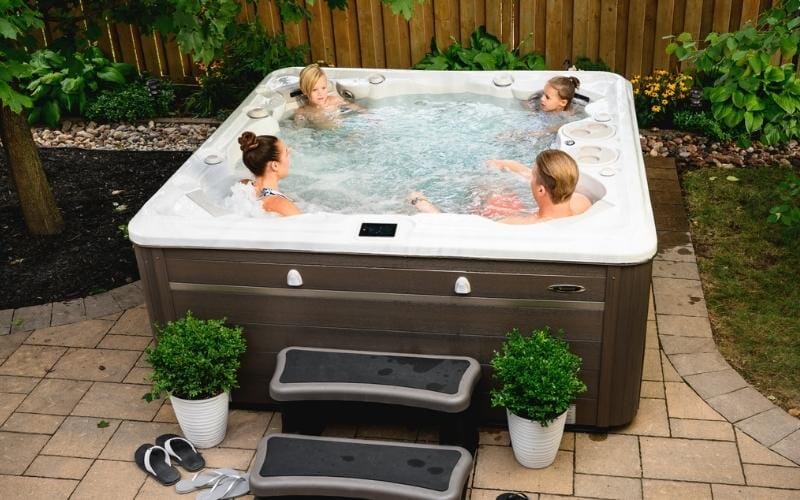 WHAT SEATING SHOULD I LOOK FOR IN A HOT TUB?
Seating quality in a hot tub can vary, with some manufacturers placing more emphasis than others on seats that not only fit but enhance your massage experience. Take a round hot tub as a good example: while it might let you experience the classic idea of a hot tub, the seating, due to the design, will have basic or limited diversity, no lumbar support and be tightly packed, often leaving you touching the knees of others sharing the hot tub with you. The last thing you want is to feel cramped or too close to the other people , especially if there is limited space, so feeling comfortable while in the tub means you'll use it far more than if you aren't.
When looking to purchase a hot tub, make sure the seating is open and contoured to your body. The seats should help you ease into a relaxed state and aid in the massage so you can get the optimal experience and benefit out of it.
To ensure this within our own hot tubs, Hydropool has partnered with the Clinic of Science and Beauty in France and chiropractor Michael Prebeg to ensure we have the perfect combination of form and function. So when you sit in our seats, they not only provide comfort but increased support too. Sitting in the hot tub when it's dry will give you the best feel for how you fit into it and whether it supports your body.
Seat design is critical for obtaining the optimal massage, and placating the spine in a contoured seat allows for it to relax and for your body to receive maximum effectiveness from the massage. Ultimately this will lead to a healthier, more productive and stimulating hydromassage experience.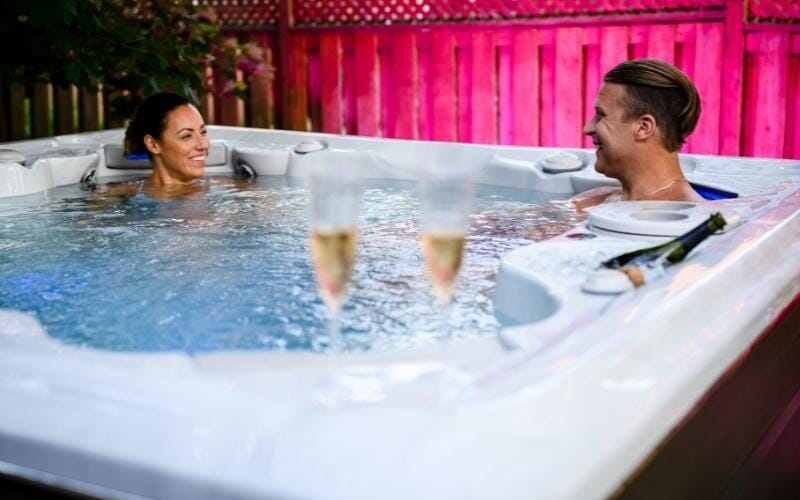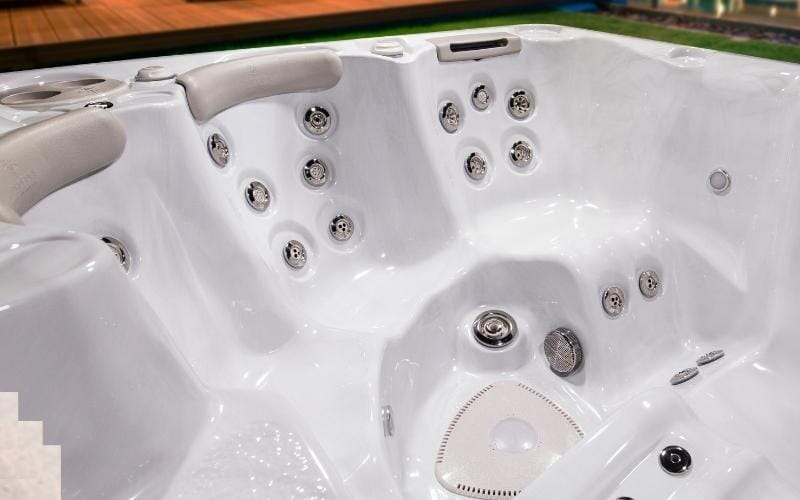 DO HOT TUBS OFFER FOOT JETS?
The simple answer is: yes! All Hydropool hot tubs offer foot jets and are a key feature in our zone therapy within the Serenity and Signature Self-Cleaning collections. We recognise that feet are a vital part of flexibility and are can affect your entire body, so you'll experience a great foot massage no matter what model or collection you choose.
HOW MANY JETS SHOULD I GET IN A HOT TUB?
A question we get asked a lot is 'how many jets should a hot tub have?' However, it's essential to focus not on the quantity of jets but on the quality and placement of them instead. This has a far greater impact on your massage experience than the number of jets. You might see hot tubs that tout upwards of 80 jets, some even 100, but this doesn't mean they are inherently better or guaranteed to deliver a quality hydromassage.
The experience you have in any hot tub seat needs to be the perfect blend of volume and pressure to deliver outstanding hydromassage to the muscle group or area you're focusing on. By adding more jets to the hot tub than your pumps can supply adequate water to, you're going to see a significantly worse jet performance which ultimately leads to a subpar massage experience.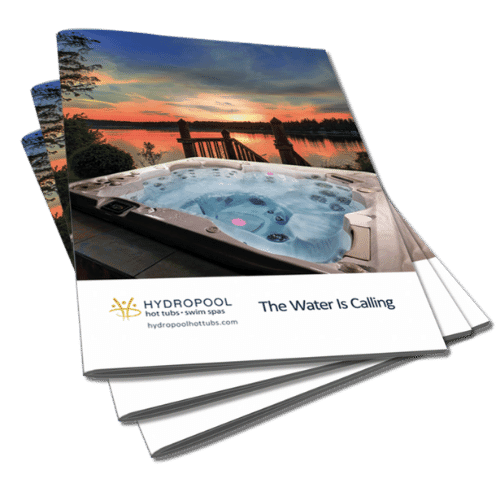 Download Our Brochure
Every Hydropool hot tub and swim spa is designed to deliver a fantastic experience. Whether you're looking for a relaxing hydromassage, a space to enjoy with family and friends, or you're looking to improve general fitness or athletic performance in our swim spas – we have a model to meet your needs. Download your brochure now.
Download Our Buyers Guide
Whether you are looking for a hot tub to relieve stress and ease pain, or a swim spa for keeping active, or you simply don't yet know what you're looking for, our buyer's guide is the perfect place to begin. Here to help with your planning, our guide helps you get a little deeper into the specifications, benefits, and features of the Hydropool hot tub and swim spa collections. Download your buyer's guide now.