WHY SHOULD YOU BUY A HOT TUB?
Hot tubs are an incredible feature for any home. Whether you're looking to purchase one for health reasons or utilising its great ability to bring people together, it's an investment you won't regret. But what are some of the main reasons why you should buy one?
FIND YOUR PERFECT HOT TUB WITH OUR ONLINE TOOL
SWITCH OFF
Buying a hot tub isn't just about bringing your friends and family together; it's also an incredible tool for relaxing and disconnecting from the noise of day to day life. Sitting in heated water produces a state of relaxation and allows you to de-stress and think clearly about the situations in your life. Quality time, either by yourself or with a loved one, can have many positive mental health benefits too. An increasingly valuable benefit is that a hot tub can be a great way to share time together or alone without any digital encumberments – leave the phone and distance yourself from the constant barrage of notifications we're all under.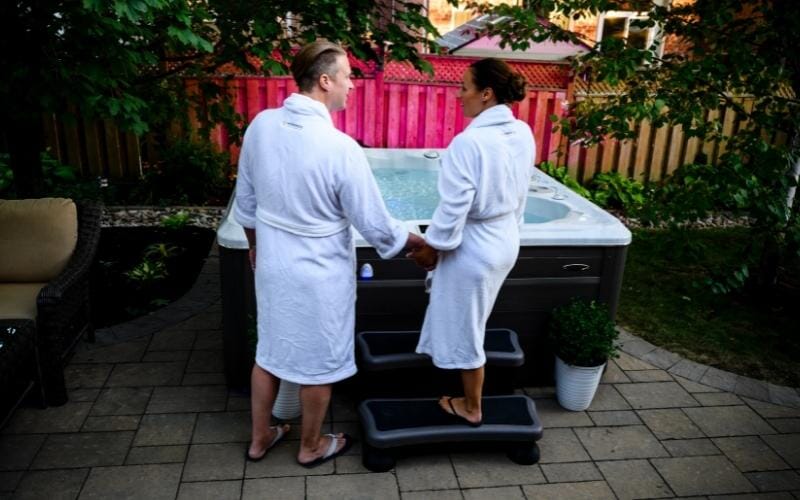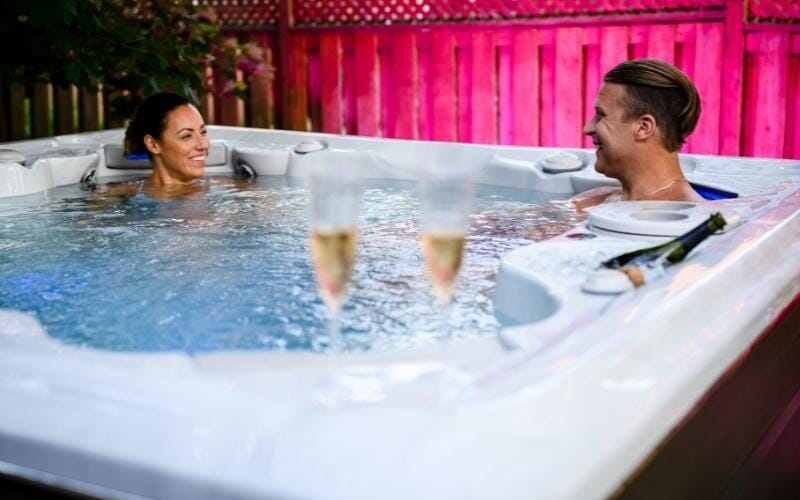 RECONNECT
Spending time together and reconnecting is a fantastic feeling, and a hot tub enables both of these to be done while in comfort and relaxation. Whether it's getting a six-person hot tub for a large garden party in the summer or installing a four person model for late-night drinks with close friends on a chilly winter's night, hot tubs are forever a brilliant excuse to bring people closer.
Hot tubs are also a great way to be in the present and practice mindfulness. Paying more attention to the present moment can improve your mental wellbeing; this includes your thoughts and feelings, your body and the world around you. Fewer distractions and being in a central location like a hot tub allows meaningful interactions that help alleviate stress while engaging with friends and family.
'It can positively change the way you feel about life and how you approach challenges.'
IMPROVE SLEEP
Gaining sufficient amounts of sleep can be a major concern for many people, as '1 in 3 of us suffers from poor sleep, with stress, computers and taking work home often blamed'. It's an unfortunate fact that all of us at one time or another will suffer from a disrupted sleep pattern. The NHS point out that 'regular poor sleep puts you at risk of serious medical conditions, including obesity, coronary heart disease and diabetes – and it shortens your life expectancy. It's now clear that a solid night's sleep is essential for a long and healthy life.'
Owning a hot tub allows at-home treatment for issues such as insomnia or other symptoms caused by sleep fragmentation. Sitting in warm water for at least 15 minutes rapidly increases your body temperature, and then cooling down afterwards swiftly decreases it. This induces a relaxed feeling throughout your body, aiding in a restful night's sleep. Hydropool's Dreamscents or essential oils can be used to enhance the drowsy feeling and leave your skin feeling clean and smooth at the same time. All of these things combined can set you on the right path for a healthier sleep pattern with long term overall benefits, both physical and mental.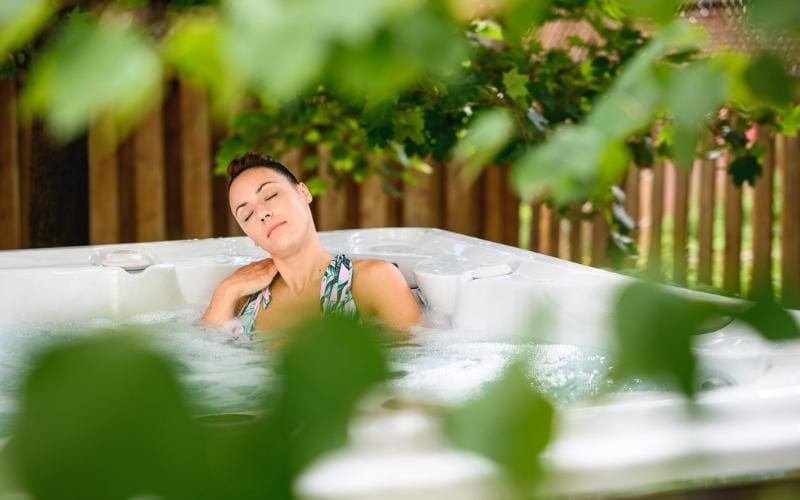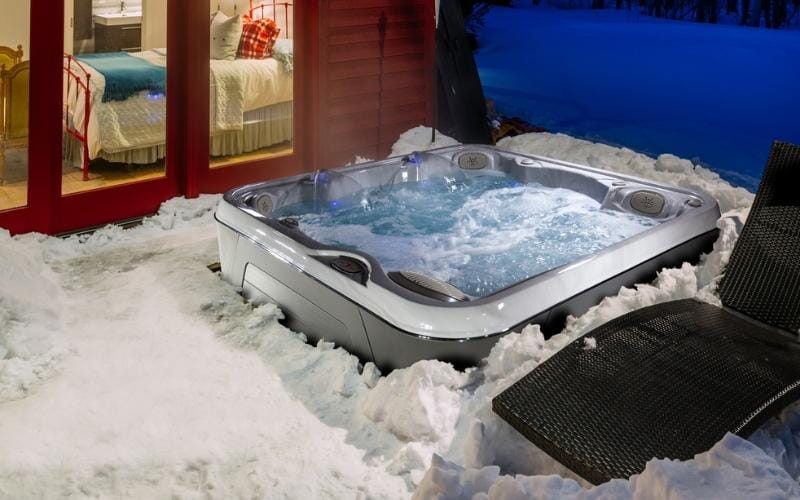 ALL-YEAR-ROUND USAGE
Hot tubs are a hydrotherapy and wellness tool that can be used in all seasons. A hot tub or swim spa enables unlimited opportunity to relax in the comfort of your own home, no matter the weather and Hydropool's HydroTher insulation means our hot tubs are suitable for any climate and can be relied upon to perform every time.
Depending on which hot tub you buy, you might have extra cleaning systems built into the model. The Hydropool Signature Self-Cleaning range has a skimmer and floor vacuum that keeps your water free of debris, while the UV light and ozone system eradicates 99.9% of all known pathogens. If you have limited time and want to focus on using your hot tub rather than cleaning it, , features like this will give you the ease of maintenance you need to enjoy your hot tub.
HYDROTHERAPY
The healing potential of hydrotherapy is well known and something that can be used as part of a daily wellness routine. The application of hot or cold water on the skin carries impulses deep into the body, a reaction which is thought to lessen pain receptors, boost the immune system and reduce lymphatic build-up while aiding in its drainage. The healing properties of hydrotherapy have been used for thousands of years, and modern hydro technology has only enhanced its potential.
Hydropool's range of hot tubs come with a variety of hydromassage options, allowing multiple areas of your body to receive hydrotherapy. Specifically placed jets in the ergonomically designed seats or lounger provide muscle relieving massage that leaves you feeling rejuvenated. Buying a hot tub means you get access to hydrotherapy options any time you like, allowing more flexibility and choice in your own home.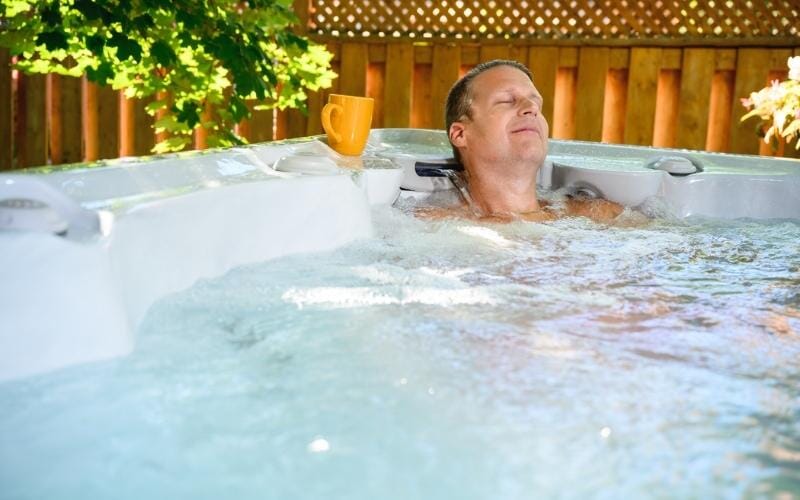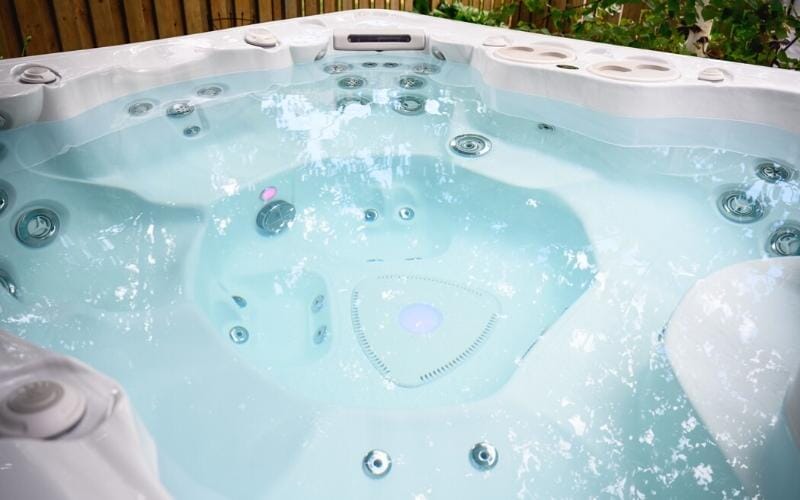 ZONE THERAPY
Hydropool's unique zone therapy has been designed to provide its users with maximum comfort and unrivalled hydromassage options. Separated into four distinct zones, they allow you to experience hydrotherapy across all four areas, targeting key muscles groups in the back, shoulders, legs and feet to provide all-round tension and muscle relief.
The power of water combined with effective application of heat allows for rapid recovery through the widening of blood vessels. Improved circulation leads to more nutrient-rich oxygen being carried in your blood cells resulting in tight muscular tissue relaxing. This, in turn, soothes overworked muscles and loosens strained tendons, creating greater flexibility and allowing healing to take place.
As the zones target specific areas of your body, you can choose which muscles you wish to work on, giving you ultimate freedom to choose the hydromassage best suited for you. Used as part of a daily or weekly wellness routine, zone therapy can have incredible health benefits, like aiding in recovery from a sports injury, reducing stress and anxiety, and soothing long term joint pain such as arthritis.
PLATINUM & TITANIUM JETS
Any good hot tub retailer will tell you that the quality of jets in your hot tub can have a significant impact on the hydromassage you receive, and Hydropool's hot tubs are renowned the world over for this. That's why, along with our zone therapy, we ensured the jets going into all our collections deliver a fantastic hydromassage experience every time.
Our Serenity and Signature Self-Cleaning collections offer exclusive Platinum and Titanium jets to deliver perfectly balanced air and water pressure to every area in the hot tub. These superior quality jets provide maximum hydromassage results and use the power of water to help soothe aches and pains and alleviate long term symptoms.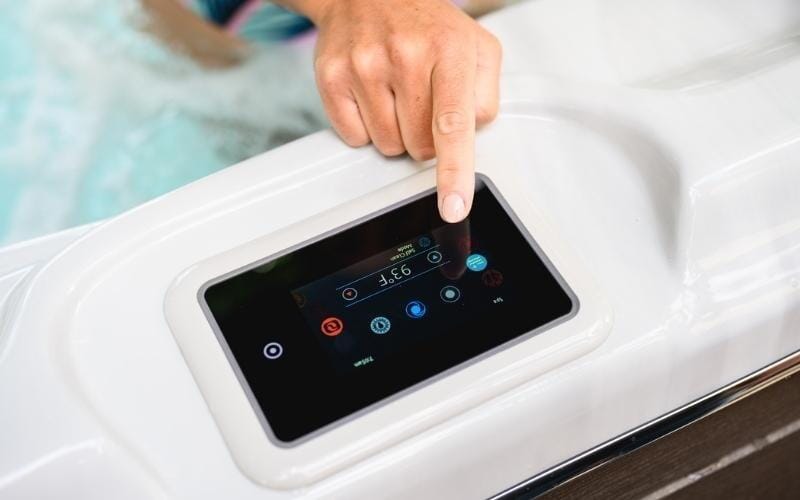 CUSTOMISATION
Another fantastic feature of a Hydropool hot tub is the ability to customise its options and create the hot tub experience you want. It's important to note, however, that not every hot tub comes with optional upgrades or features.
The power of water combined with effective application of heat allows for rapid recovery through the widening of blood vessels. Improved circulation leads to more nutrient-rich oxygen being carried in your blood cells resulting in tight muscular tissue relaxing. This, in turn, soothes overworked muscles and loosens strained tendons, creating greater flexibility and allowing healing to take place.
If you're looking for enhanced LED lighting for deeper chromotherapy, integrated Bluetooth, or wireless app control, the Serenity and Signature Self-Cleaning collections have a wealth of optional upgrades and features to choose from.
These are just some of the amazing benefits owning a hot tub can bring to enhance your life. If you're thinking about investing in one, learn about the 5 things to look out for when shopping to see what's important to know. Find out more about the Serenity and Signature Self-Cleaning Collections here.
Find Your Nearest Hydropool Showroom
Discover the Hydropool hot tub or swim spa that's right for you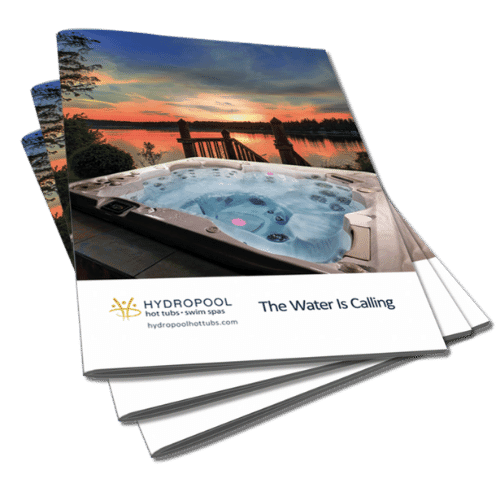 Download Our Brochure
Every Hydropool hot tub and swim spa is designed to deliver a fantastic experience. Whether you're looking for a relaxing hydromassage, a space to enjoy with family and friends, or you're looking to improve general fitness or athletic performance in our swim spas – we have a model to meet your needs. Download your brochure now.
Download Our Buyers Guide
Whether you are looking for a hot tub to relieve stress and ease pain, or a swim spa for keeping active, or you simply don't yet know what you're looking for, our buyer's guide is the perfect place to begin. Here to help with your planning, our guide helps you get a little deeper into the specifications, benefits, and features of the Hydropool hot tub and swim spa collections. Download your buyer's guide now.