WHAT ACTIVITIES CAN I DO IN A SWIM SPA?
A Hydropool swim spa is not just a great way to reconnect with family and friends or be a great focal point for your garden or indoor space. The fantastic thing about it is its multi-use potential for various activities. Hydropool started building swim spas in 1995, and it's that experience of nearly 30 years' worth of designing that has helped us create some of the best swim spas on the market today.
We've always seen the potential of swim spas to be more than just a place for a great swim experience. And there are four main areas you can use your swim spa to get the most out of it.
FIND YOUR PERFECT SWIM SPA WITH OUR ONLINE TOOL
EXERCISE
One of the great things about a swim spa is that, much like a pool, it can be used for a multitude of aquatic exercises. Whether you're looking to increase your overall aerobic programmes or perform exercises while in a low impact environment, a swim spa is a perfect place to do that.
Aquatic exercises are fantastic for taking the pressure off your knees, ankles and other key joints affected by high impact workouts. Exercises that are known for being high impact can have long term effects on joint health. Performing them in a body of water allows you to get the full effects of the exercise you're doing with much less impact on these key mobility areas.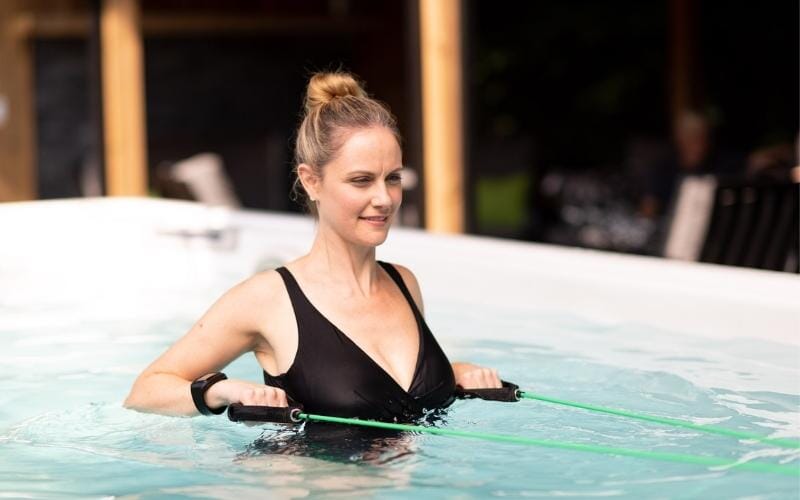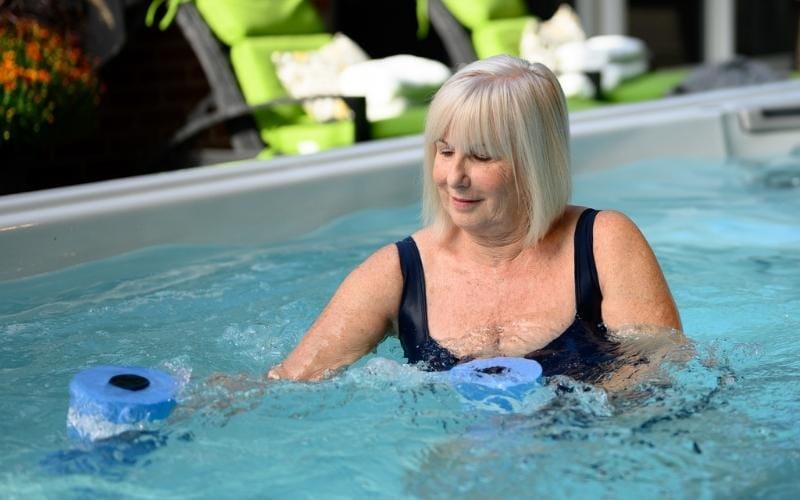 Cardio or strength training activities can be done easily in a swim spa, with additional equipment to perform box fit and cross training workouts such as power cross, bicep curls, power punch and quick feet. The equipment that can be purchased will add additional resistance to the water, strengthening muscles and providing a great cardio workout, giving you complete control over the intensity and length of exercises.
We've created a number of videos led by Canadian triathlete Jodie Becker to help you create a varied and multi-layered fitness regime that suits your pace, from beginner programmes all the way to advanced workouts for those looking to really push themselves. Rowing can also be performed in the swim spa with additional equipment, giving you a broad scope of aquatic exercises to create whatever workout system you want.
SWIMMING
Whether you are just starting out or have been looking to advance your swimming experience and performance, a Hydropool swim spa provides an incredible swim all year round. Whichever collection you choose, both the AquaTrainer and the Executive collections offer a smooth and predictable current, utilising the very best in hydro swim technology.
With our patented V-Twin jet technology, you can increase the speed from 0 – 11 kph (0 – 6.84 mph), creating as comfortable or as intense a pace as you like, with the Executive collection having a built-in treadmill to track speed, distance and calories burned.
You can experience varying levels of water flow and resistance to give you a predictable current that can be tempered for an intense or more relaxed swimming experience; either way, you're in control.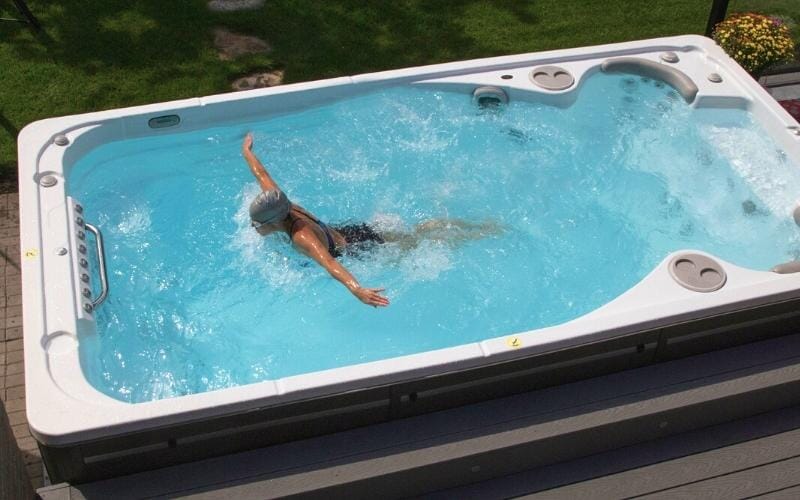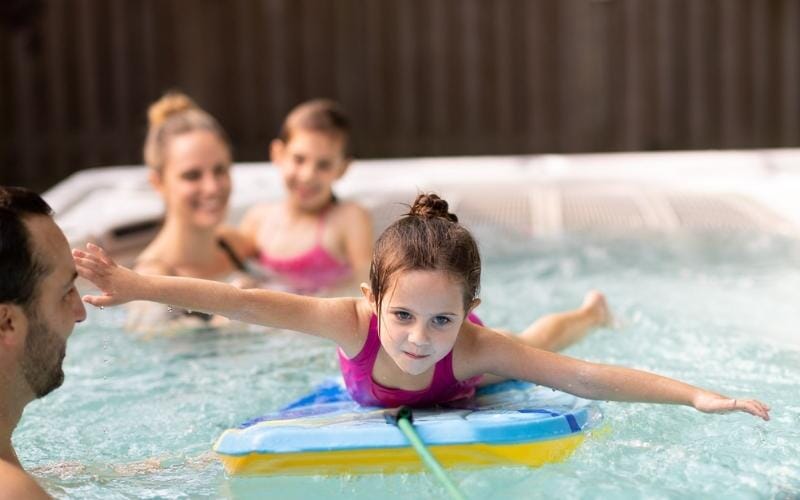 WAVE POOL AND FUN
One of the great things about having a swim spa in your own home is how easy and accessible it is to get family and friends together and spend time with each other. A swim spa can be used as a great place to gather in and is accessible to all ages, and unlike a swimming pool, it can be used all year round.
Another great feature of owning a swim spa is that you can use it all year round as an actual swimming pool. Using it as a wave pool, attaching a boogie board or just jumping around are all possible, and a swim spa provides hours of fun for kids and is a great way to enjoy an afternoon.
RELAXATION
The great thing about a swim spa is that it's not just a place to exercise or swim but a fantastic place to unwind and relax. If you've spent some time swimming, building up the intensity level or looking to relax and unwind after a long day, the hydromassage element of a swim spa is a perfect place to do it.
With a swim spa, you get an incredible swim current and aquatic workout with access to a great massage via the hydromassage space. Built at one end of the swim spa, you can relax in the ergonomically designed seats and receive a hydromassage that can target your neck, shoulders, back and lower body.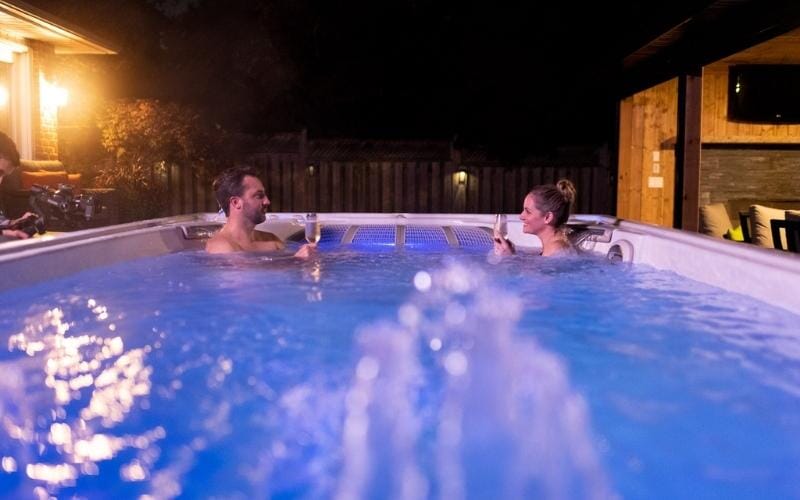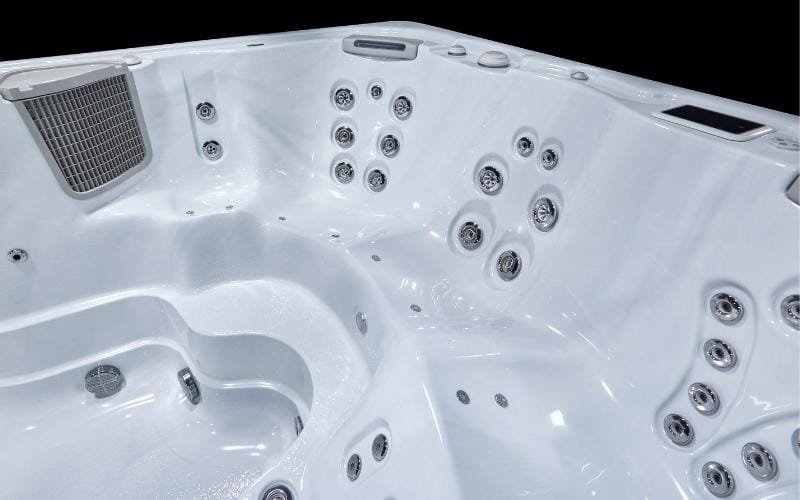 Our jets have been placed strategically within the seats, so while the curvature of them opens up your back to receive a hydromassage, the jets can provide maximum impact to relieve muscle tension. The hydromassage part of the swim spa serves as a great place to spend time with loved ones and relax while reconnecting.
A swim spa acts as a hydro swimming pool, offering a holistic environment for not only getting one of the most predictable swims on the market today, but an outstanding hydromassage and a multitude of aquatic workouts all in one place.
THE HYDROPOOL DIFFERENCE
Whether you're looking for a perfect swim with varying degrees of intensity, wanting to add aquatic-based workouts to your regime, or looking to have a great massage, a Hydropool swim spa will give you access to all of these.
Costing only a fraction of the price of a swimming pool, a swim spa is more affordable than you might think. Check out our finance options here.
For more information on Hydropool swim spas and their advanced features, check out our collections here.
Find Your Nearest Hydropool Showroom
Discover the Hydropool hot tub or swim spa that's right for you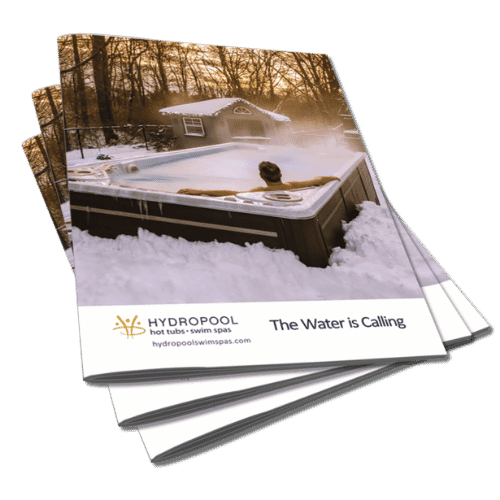 Free Hot and Swim Spa Brochure
Every Hydropool hot tub and swim spa is designed to exceed your expectations with superior ergonomic design, jet options and 10-year structural guarantee. Wet your appetite for supreme luxury with a little light reading. Download the latest Hydropool hot tub and swim spa brochures here.
Free Hot and Swim Spa Buyer's Guide
Whether it's staying active, defying stress, or combating pain, your Hydropool can and will help you be your best self. To help with your planning, explore our guide to assist your purchasing journey. Go a little deeper into the specs, and explore all the features and conditioning benefits of our world's only Self-Cleaning hot tubs & swim spas.