Swimming Pool and Swim Spa Differences
WHAT'S THE DIFFERENCE BETWEEN A SWIM SPA AND A SWIMMING POOL?
A swim spa and a swimming pool might seem to do the same thing, with both emphasising fun and a focal point in your house or garden for social events. But while they do share some things in common, a swim spa differs in a number of ways from a swimming pool.
Whether it's what exercises you can do in them, overall usage, or how often and when you can take a dip, we'll look at a few key areas where a swim spa differs from a swimming pool.
FIND YOUR PERFECT SWIM SPA WITH OUR ONLINE TOOL
THE SWIM EXPERIENCE
One of the significant differences between a swim spa and a swimming pool is the quality of the swimming experience. In a swimming pool, no matter the size, you'll only be able to swim so far before having to stop and turn around, touch off from the wall and repeat the swim back the way you came.
With a swim spa, you don't have to do that. A swim spa is designed never to have to touch off from a wall or turn around ever. The hydro technology within a swim spa allows you to have a continuous and predictable swim current which means you can swim in place for as long as you want.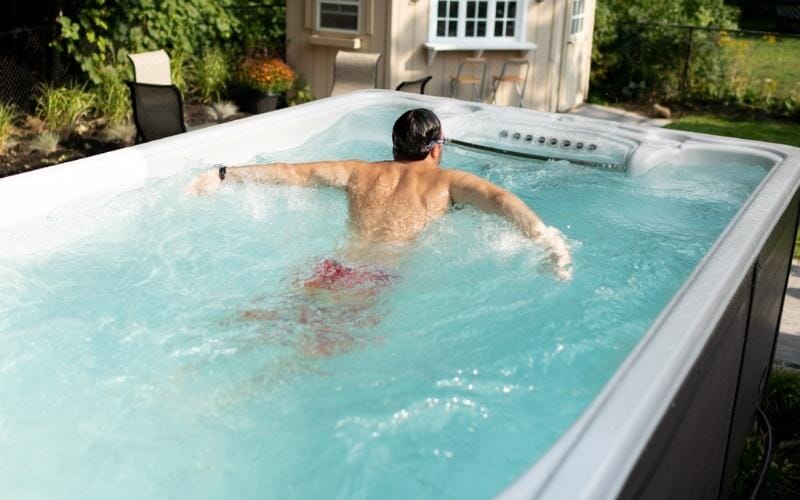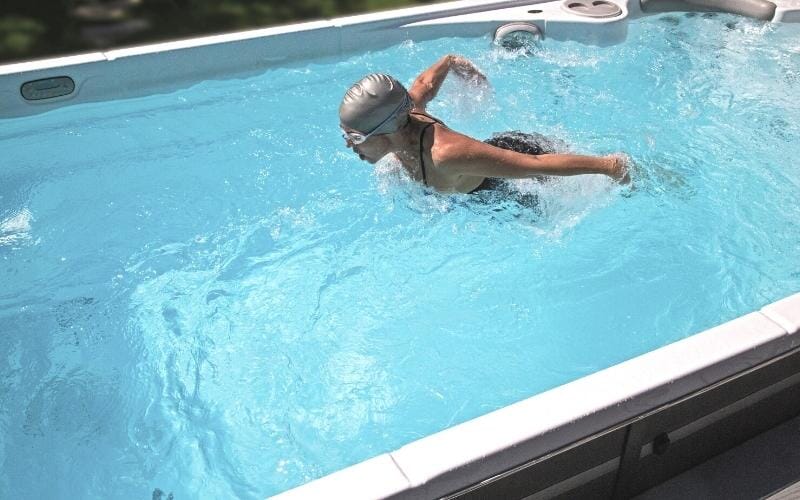 What a swim spa gives you that a pool doesn't is the ability to increase the resistance as you progress in your fitness, elevating it with variable speeds up to 11kph. Hydropool's patented V-Twin jets supercharge the swim current, producing over 1,400 gallons per minute, creating a wider, deeper, and smoother current.
Another great factor of a swim spa is that once you've performed your swim or aquatic exercise, you can move into the ergonomically designed seating and receive a great hydromassage. With a few simple twists, you can divert the pumps to the hydromassage jets and be recovering from a workout in no time.
THE ABILITY TO HAVE FUN
Fun is an important part of using a swim spa and is just one way you can use it. Alongside swimming, aquatic exercises and hydromassage, a swim spa provides hours of fun for kids and the family; and can be used as a lazy river, and you can even attach a boogie board and have the swim spa act as a mini wave machine.
While a swimming pool has some elements of this and certainly shares in the fun, it can't be used for these things as it doesn't possess the hydro wave technology. This gives a distinct advantage for a swim spa as more than just a body of water to jump around in; but a versatile place where you can enjoy multiple ways of having fun with family and friends.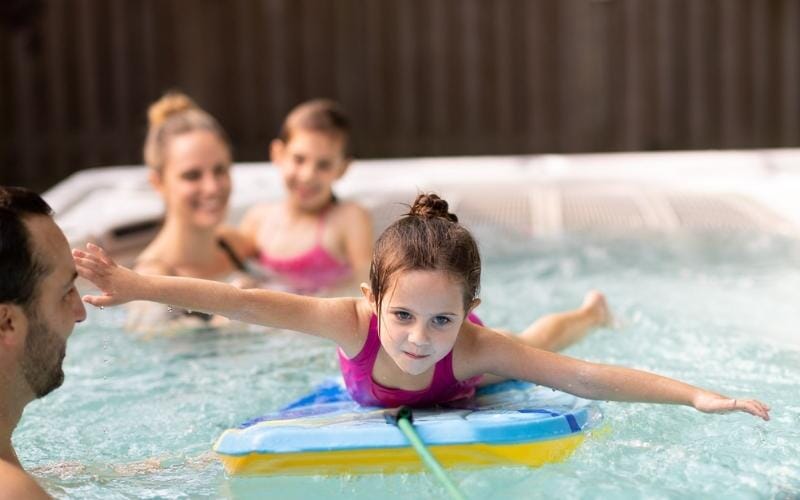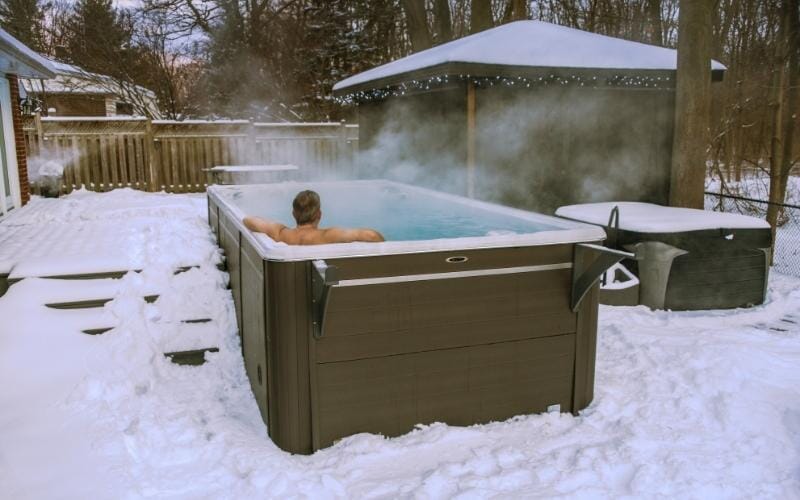 YEAR-ROUND USE
You can use a swim spa all year round. One of the main benefits of having a swim spa over a swimming pool is the ability to take a dip any time of the year and in any weather. If you live in a northern climate, a swim spa allows you to use it even in the extreme months when you won't be able to use a swimming pool.
All our swim spas have been fitted with a heater, enabling you to use the swim spa any time of the year. With the heater also comes advanced insulation throughout the build and design of the swim spa, redistributing the heat created by the parts and plumbing back into the water.
INSTALLATION TIME AND COST
Installation time can be a big factor in how long it takes to start using your swimming pool, with a number of elements that need to be in place beforehand. Weather plays a part, as it needs to be dry for work to begin on laying the foundations and creating the pool area. Labour can also play a role in lengthening time frames for completion, leading to weeks and potentially months before you can start using it.
The great thing about a swim spa is that you can get it delivered any time of the year, have it placed on a concrete pad and be using it within 3-5 days.
Another factor is that the cost of a swimming pool is much higher than a swim spa. When all areas considered, including delivery and installation, a swim spa is significantly less money than a swimming pool, averaging about only a quarter of the price. This is a huge saving and provides you with all the benefits of a swimming pool in a multiuse and versatile aquatic centre for a fraction of the cost.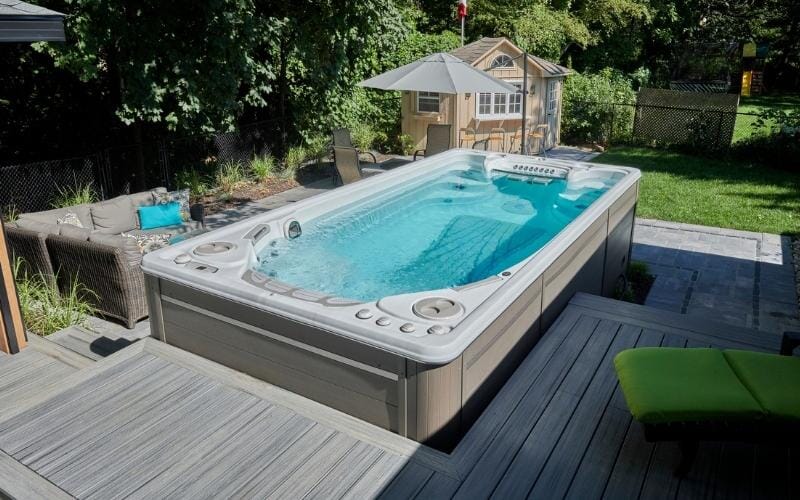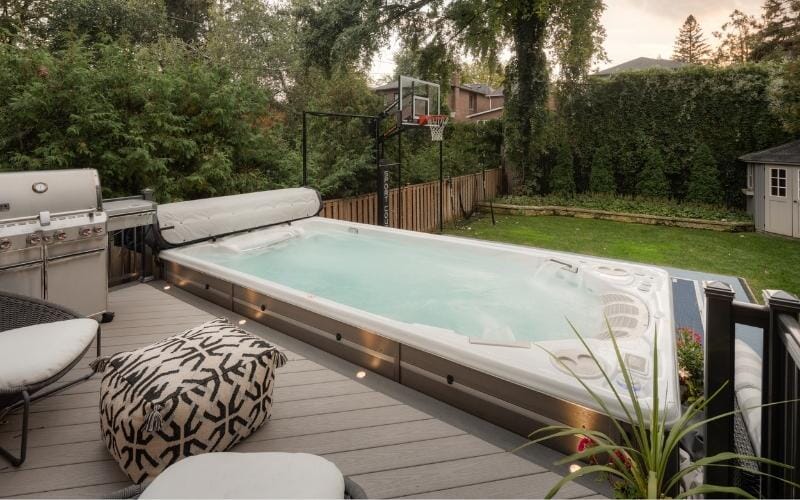 COST OF OPERATION AND MAINTENANCE
Cost is something to consider when stating the differences between a swim spa and a pool. The cost of operating and heating a swimming pool, especially in a more northern climate, over more than a few months can be considerable. Part of the reason for this is the lack of sufficient insulation in and on a swimming pool, leaving it inefficient as reserving energy in the water.
With a Hydropool swim spa, it's been designed from the ground up to be one of the most energy-efficient swim spas on the market today, with advanced insulation and our patented HydroTher technology providing incredible heat retention all year round. Additional apparatus like a swim spa cover can help you keep the heat in for longer. All of this helps keep your swim spa more energy efficient than a swimming pool, helping you use the same amount of energy better.
Maintenance wise, our swim spa covers are much easier to maintain and clean than a swimming pool cover. Using the very best materials possible, the swim spa cover is easy to remove and replace with straightforward maintenance.
Maintaining an in-ground swimming pool requires quite a bit of attention to upkeep and have everything working as it should. Overall, this can be expensive, and long term, become more of a headache than anticipated with consistent cleaning, chemical balancing and filtration all needing to be factored in.
Maintenance and cleanliness wise, our swim spas come with our patented self-cleaning technology, massively reducing both chemical dependency and the need to vacuum the swim spa. With this innovative technology, Hydropool swim spas filter 100% of the water every 40 minutes, leading to less chemical use and overall maintenance of the swim spa, allowing you to spend more time in it than cleaning it.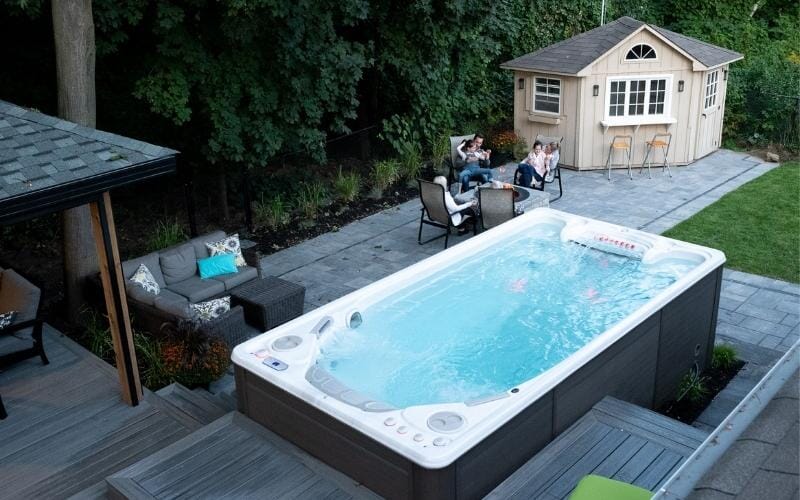 SWIM SPA EXPERIENCE
Swimming pool – Have to turn around and have limited strokes and resistance.
Swim Spa – No touching off or turning. A continuous swim in a predictable current.
ABLILITY FOR FUN
Swimming pool – Limited activities.
Swim spa – Aquatic exercises, hydromassage, lazy river, boogie board and swimming.
ALL YEAR ROUND USE
Swimming pool – Cannot be used in every climate all year round.
Swim spa – Can be used in every climate at any time of the year.
INSTALLATION TIME AND COST
Swimming pool – Up to two months from start to finish before use.
Swim spa – Between three to five days from delivery. Only a quarter of the price.
COST OF OPERATION AND MAINENANCE
Swimming pool – Long term investment into chemicals, cleaning, filtration and heating.
Swim spa – Hydropool self-cleaning technology, massive reduction in chemicals & cleaning, filters 100% of the water in only 40 minutes.
THE HYDROPOOL DIFFERENCE
Looking for more information on a swim spa? Fill out our contact form and download a free brochure below. If you're searching for a great swim, find out more about our AquaTrainer collection here.
Find Your Nearest Hydropool Showroom
Discover the Hydropool hot tub or swim spa that's right for you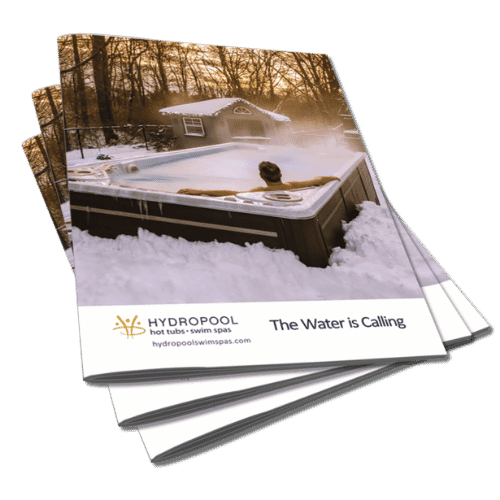 Free Hot and Swim Spa Brochure
Every Hydropool hot tub and swim spa is designed to exceed your expectations with superior ergonomic design, jet options and 10-year structural guarantee. Wet your appetite for supreme luxury with a little light reading. Download the latest Hydropool hot tub and swim spa brochures here.
Free Hot and Swim Spa Buyer's Guide
Whether it's staying active, defying stress, or combating pain, your Hydropool can and will help you be your best self. To help with your planning, explore our guide to assist your purchasing journey. Go a little deeper into the specs, and explore all the features and conditioning benefits of our world's only Self-Cleaning hot tubs & swim spas.