What To Look For In Swim Spa Massage
HOW GOOD IS THE MASSAGE IN A SWIM SPA
Swim spas are primarily designed with a great swim experience in mind, from the smooth flow of water to the adjustable current tailored to meet all ability levels. However, swim spas are also just as capable hydrotherapy tools as many hot tubs and can offer an equally relaxing session of massage, recovery, and relaxation. Today we'll tell you what you should look for in a swim spa to get the best overall relaxation experience.
When shopping for a swim spa, there are a few important factors to bear in mind before you make a decision on what type to purchase.
FIND YOUR PERFECT SWIM SPA WITH OUR ONLINE TOOL
SWIM SPA SEAT DESIGN IN ALL-IMPORTANT
Firstly, much of what makes a hydromassage a great one in either a hot tub or a swim spa comes down to the seat. Ergonomics are key here, which means an appropriately shaped seat contour, multi-level seating options, fully recessed jets, and additional comfort options like head rests. A poorly designed seat that fails to accommodate a wide range of body types and proportions simply won't be comfortable to sit in for any long period of time, meaning the user won't be in the best possible state of mind regardless of how good the jets are. This is of course paramount in hot tubs where highly focussed massage is the name of the game, but a swim spa with well-designed hydrotherapy seats shouldn't be a second-rate experience.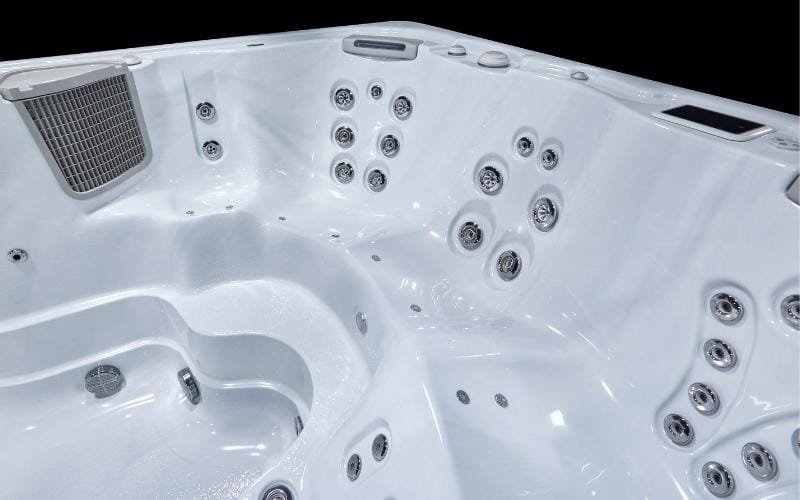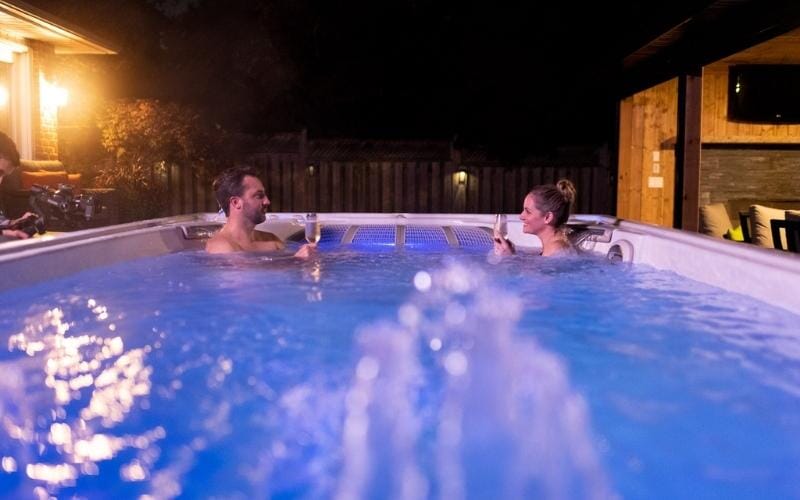 A HYDROTHERPAY MASSAGE IS ONLY AS GOOD AS ITS JETS
On the subject of jets, even the most comfortable seat – whether in a hot tub or swim spa – won't be able to deliver optimal hydromassage without high quality jets that are up to the task. More direct, focussed jets are great for targeted tension relief while broader opening jets work well to provide excellent circulatory benefits across a wider area. At Hydropool we take the route of fewer, high-power jets that deliver true hydromassage rather than oversubscribing a massage seat with a larger number of low intensity jets that fail to deliver on their promise. This means that the massage seats in our swim spas are just as competent as those in our hot tubs.
JET POSITIONING MAKES ALL THE DIFFERENCE
The hydromassage seats in all Hydropool swim spas will also boast a range of jets positioned to treat different areas of the body, such as foot jets, calf jets or others located to target specific points in the back like the lumbar region or mid back.
Swim spas with hydrotherapy seats that target specific areas of the body is a reassuring indication of a dedicated massage seat that would be normally found on a hot tub, so there's no need to feel like you're making a compromise of one over the other.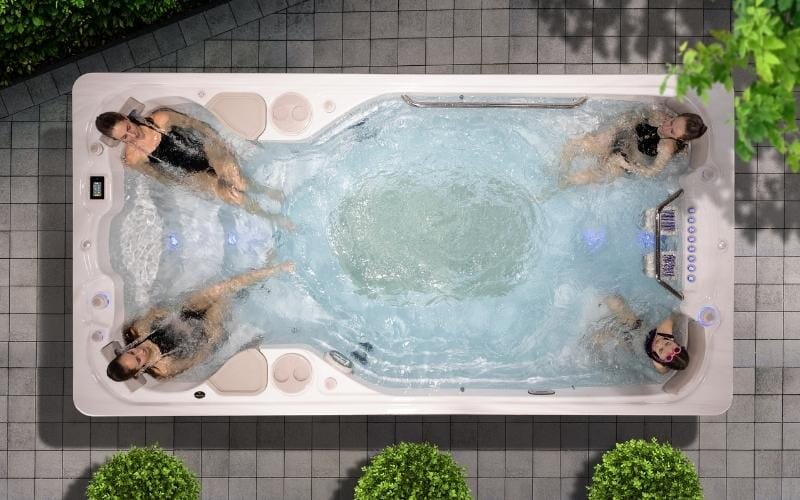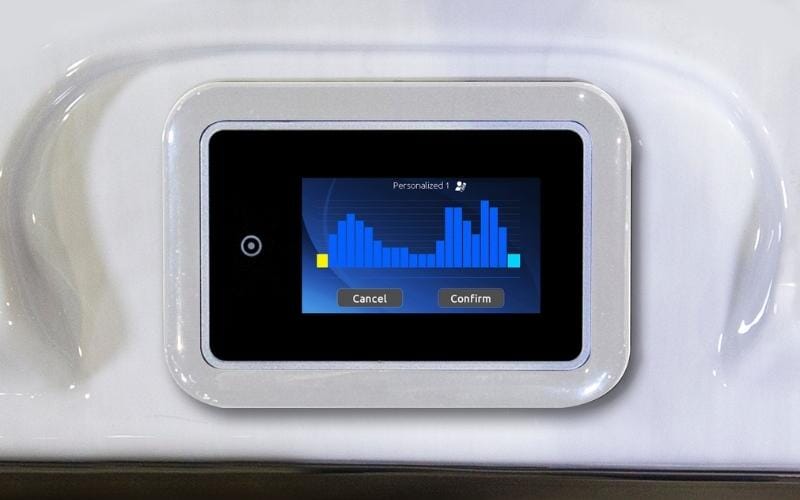 TIMED MASSAGE BRINGS OPTIMAL RESULTS
Much like a hot tub, the different massage seats in a swim spa will offer a wider range of hydrotherapy options than if the seats were all identical in size, shape, and jet placement.
Our pre-programmed massage cycles have been developed in tandem with physiotherapists to move you around the various seat options in a set order and over a predetermined period. This ensures you receive the best possible levels of rest, recovery, and relaxation from your hydromassage, just like in a hot tub.
SWIM SPA TEMPERATURE CONSIDERATIONS
The ideal water temperature for using a swim spa is around 30C, whereas for the best all-round hot tub experience you should be looking at 37-38C. Because of the large volumes of water involved in a swim spa, transitioning from a swim session to a hydrotherapy one usually requires around one hour of heating for every 3C temperature increase. This means approximately 2.5 hours to go from an aquatic fitness centre to a dedicated hydromassage tool. A hot tub is of course ready to jump in for hydrotherapy at the touch of a button, but at the same time swimming against a current in a hot tub is a long way from being possible.
Some swim spa owners might choose to set their water temperature according to the season; in warmer months maintaining the 30C swim setting and then keep the whole swim spa at a hot tub temperature of 37-38C for the colder winter months. This can be a good way of getting around regular temperature switching.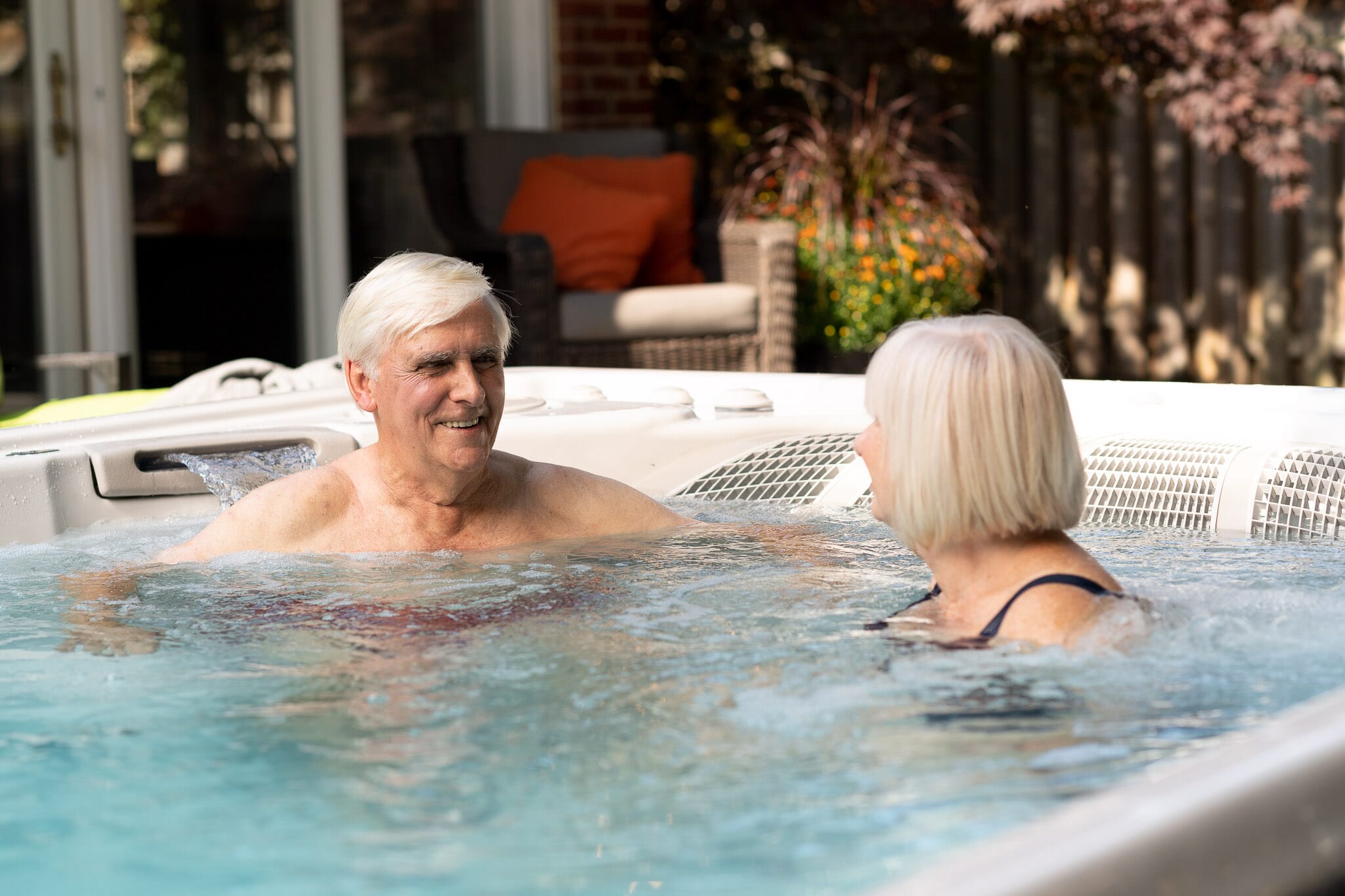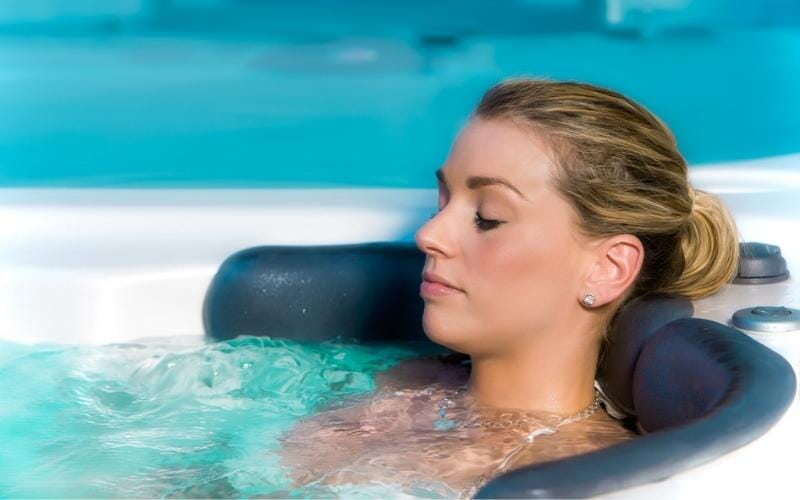 DOES A SWIM SPA OFFER A GOOD HYDROTHERAPY EXPERIENCE?
The hydromassage seats in a swim spa are absolutely comparable with those found in a hot tub. The purpose-designed ergonomic seating offers supreme comfort for a wide range of people, even during prolonged use. High quality jets deliver true tissue massage using a variety of water distribution diameters and angles which mimic a professional physiotherapist or masseuse.
The placement of each jet is also carefully considered, as it is on a hot tub seat, to ensure that the most appropriate areas of the body are targeted, and no jet is wasted. Finally, the range of specially programmed massage cycles guide you around the various seats for an effective full-body hydrotherapy experience, just as you would find in a Hydropool hot tub.
Find Your Nearest Hydropool Showroom
Discover the Hydropool hot tub or swim spa that's right for you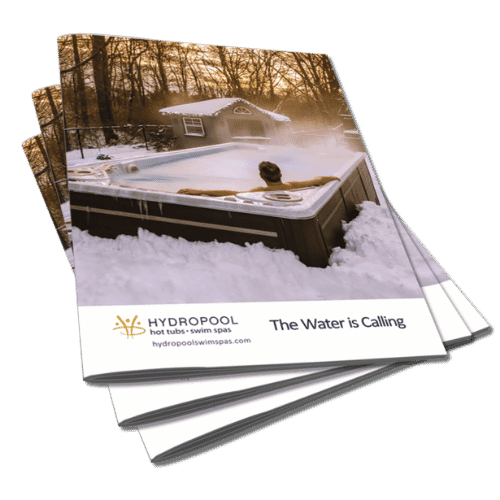 Free Hot and Swim Spa Brochure
Every Hydropool hot tub and swim spa is designed to exceed your expectations with superior ergonomic design, jet options and 10-year structural guarantee. Wet your appetite for supreme luxury with a little light reading. Download the latest Hydropool hot tub and swim spa brochures here.
Free Hot and Swim Spa Buyer's Guide
Whether it's staying active, defying stress, or combating pain, your Hydropool can and will help you be your best self. To help with your planning, explore our guide to assist your purchasing journey. Go a little deeper into the specs, and explore all the features and conditioning benefits of our world's only Self-Cleaning hot tubs & swim spas.