Your Swim Spa Installation
WHAT'S THE RIGHT SWIM SPA INSTALLATION FOR YOU?
Purchasing a swim spa is a brilliant option for expanding your wellbeing and having a great aquatic fitness and spa swimming pool in your home or garden. One of the primary considerations to discuss with your dealer is a time for installing your swim spa and what kind of installation you're looking for.
Here we'll be discussing the different types of installations available, how swim spas get delivered, and additional costs that can arise depending on which type you choose.
FIND YOUR PERFECT SWIM SPA WITH OUR ONLINE TOOL
IN-GROUND INSTALLATION
There are pros and cons to installing a swim spa sunken into the ground. The aesthetics of it can create an eye-catching centrepiece within your indoor space or garden, tying the area together and being a great focal point. This can be an impressive effect and aid in allowing people to get in and out of the swim spa as its top is level with the ground. The downside of this type of installation is the added complications that it brings.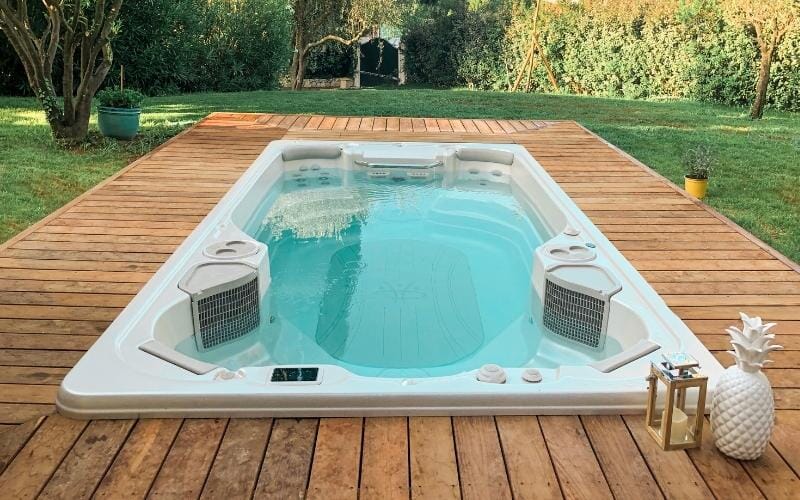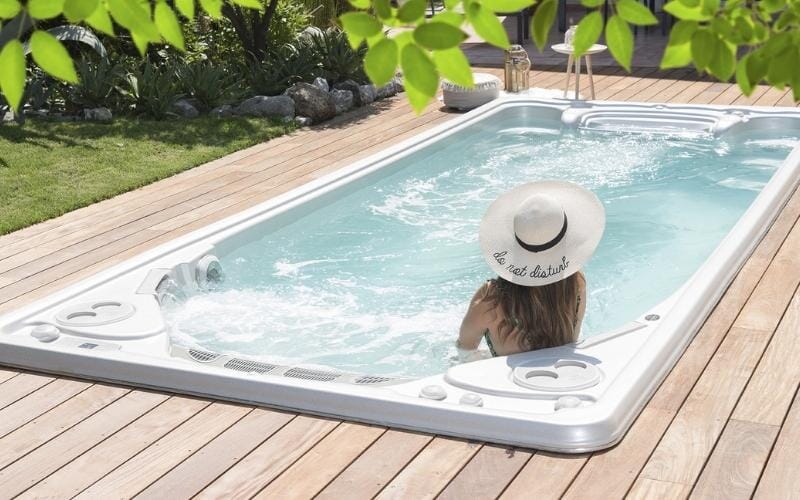 Being sunk into the ground requires greater preparation than any other type of installation, as you need to factor in a number of things, such as the laying of a concrete base, building a concrete vault to hold the swim spa once it's been lowered, and providing drainage underneath should there be any excess water.
This can cause long-term issues if not done correctly, with water erosion and improper drainage leading to the cabinetry and the plumbing parts becoming damaged. Another issue with in-ground installations is the access issues it creates should servicing be needed. Once the swim spa is in, all four sides are sunken, making it difficult to access it.
SEMI RECESSED INSTALLATION
An alternative to fully submerging your swim spa in the ground is a semi-recessed installation. This provides a sleek look for your garden or indoor space and is easier to fit decking around it, with lots of people in many cases using the same colour as the swim spa for continuity. Another pro to this type of installation is the ease of accessibility to and from the swim spa, and the semi-sunken nature allows for easy transitions in and out.
A similar issue you will have with a fully sunken swim spa is accessibility to the parts and plumbing due to the sides being restricted. As with a sunken installation, issues regarding vault stabilisation, drainage considerations, and the need for a side maintenance hatch to ensure all sides can be accessed should repairs or servicing be necessary.
If you are thinking about either a semi-recessed or a fully sunken installation, it's important to consult with your dealer on the best way to make this happen.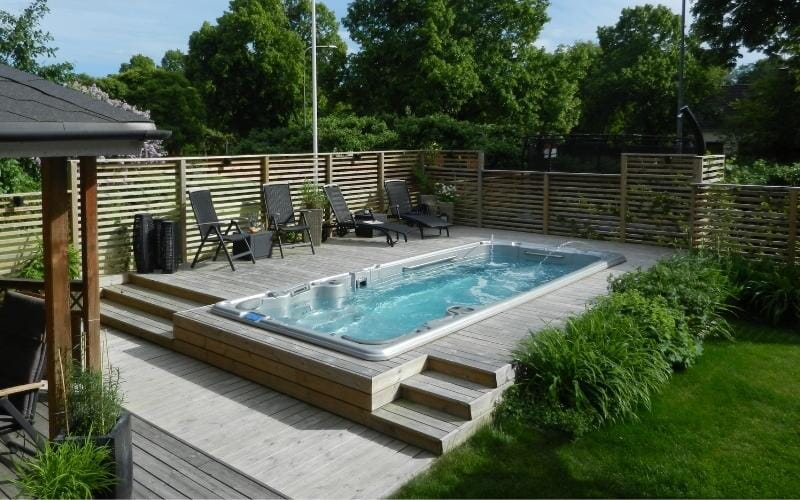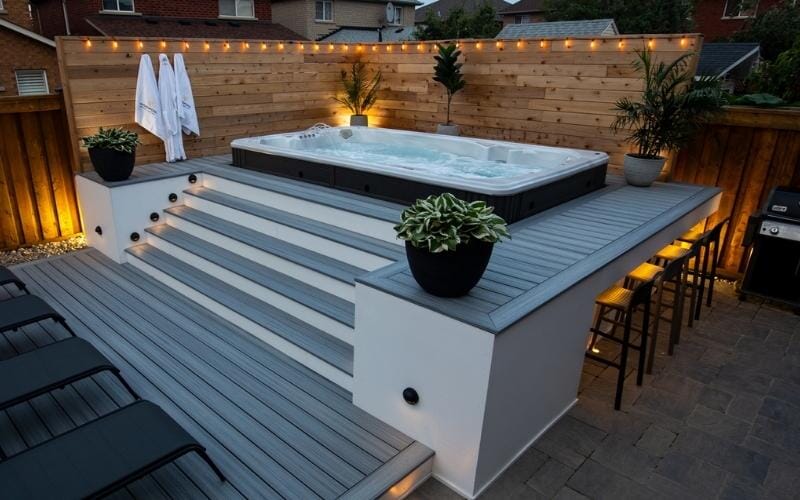 IN DECKING INSTALLATION
In-deck installations, by comparison with semi or fully sunken ones, are relatively straightforward and one of the most popular.
One of the great reasons for this is when it's in your back garden and placed next to the decking it can appear to be sunken without any of the headaches that a recessed install creates. This is great for giving off the illusion that your swim spa isn't just an afterthought and ties in with the decking surrounding it.
Another great factor of this type of installation is the accessibility it affords you. Whether it's at the side of your decking or fitted into a corner to complete it, there is greater ease when servicing is required. At least one, maybe up to three sides of the swim spa, are left available, meaning accessibility to parts of the cabinetry is much easier, should maintenance be required.
FREE STANDING INSTALLATION
Free-standing swim spa installations are the easiest type due to their limited considerations compared with the others. One of the main benefits is the speed at which you can start enjoying your swim spa. There's no need to create a vault or ensure it fits perfectly within your decking; you can plug it in, fill it up, and be using it within days of its arrival. This type of installation also provides access to all four sides of the swim spa (so long as it isn't against a wall or structure), with the freedom to service all sections, making it much easier to assess and maintain the plumbing.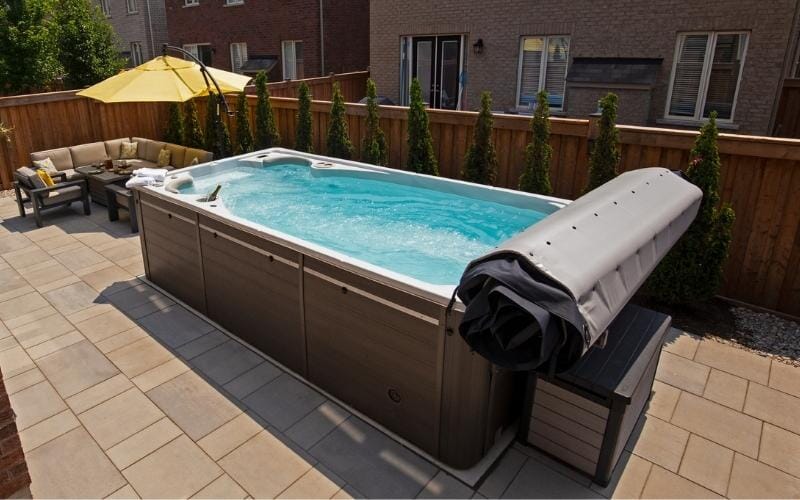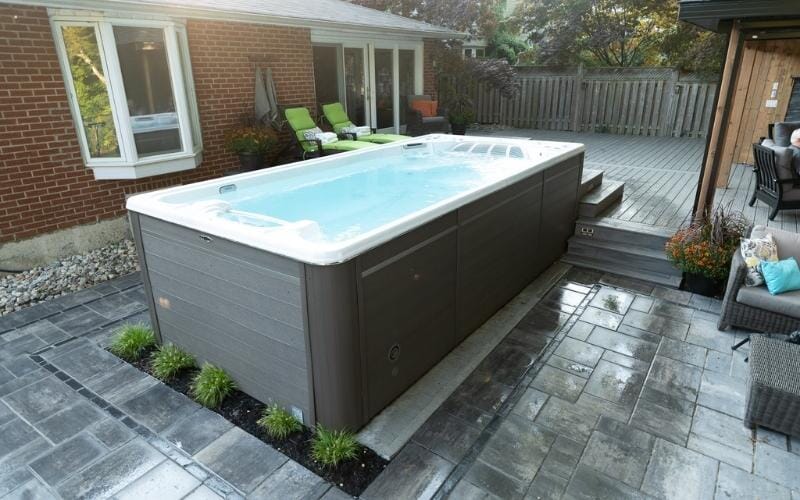 As a fast install, this type allows you to plan out what you want the end result to be for your swim spa. Having it free-standing on some concrete gives you time if you're intending to build decking around it or transform your garden or indoor space with it as a centrepiece while using it right away.
The great thing is there are not many cons to a free-standing swim spa, except it can look a bit boxy in your garden or indoor space. A swim spa is a tall unit and can seem to dwarf things around it. This can be mitigated with some upgrades such as stairs leading up it and positioning within the space you've chosen.
WHAT TO EXPECT WHEN YOU GET YOUR SWIM SPA
Once you've chosen the type of installation you want, there are a few things to expect when you get it. First, how they are delivered, and second, what some of the additional costs to consider depending on the type of installation you've chosen.
HOW YOUR SWIM SPA IS DELIVERED
The vast majority of deliveries happen via some type of crane apparatus, lifting the swim spa into your garden. If this can't be done, then alternative means will be discussed between you and your dealer, as where there's a will, there's a way. What's important to remember is that this might increase your overall delivery cost if this is the case.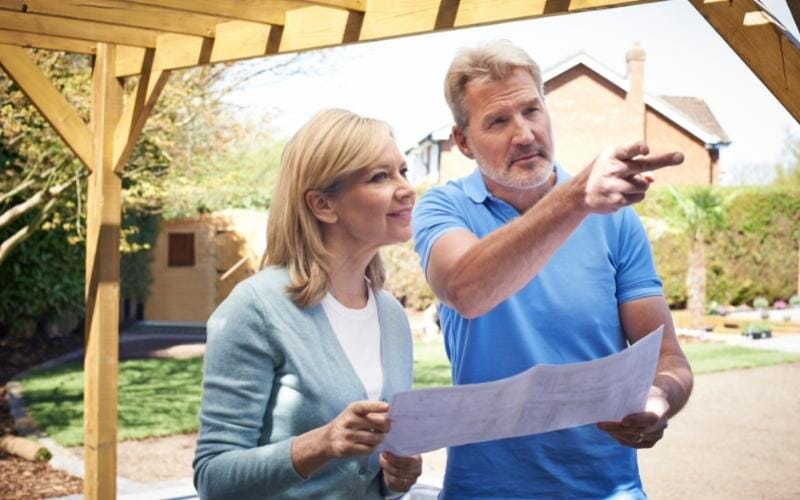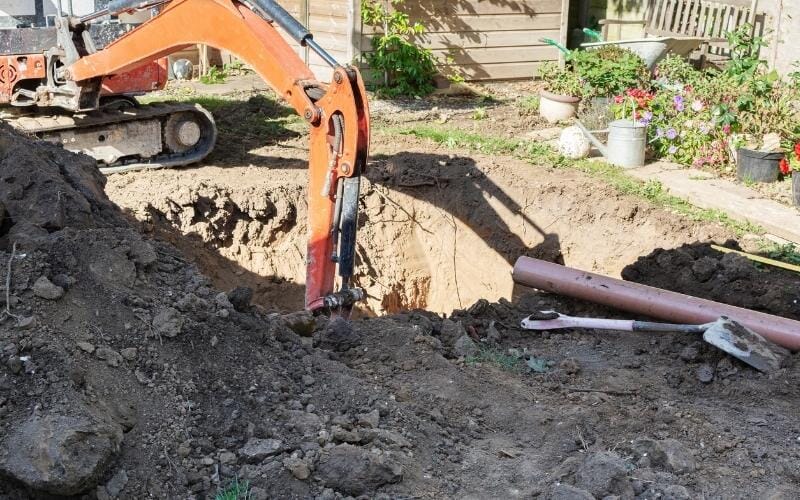 ADDITIONAL COSTS TO CONSIDER
A concrete pad is also necessary to have been arranged to be laid before delivery so the swim spa can be placed directly on it. This will require further coordination between a builder and yourself and is an additional cost to ensure the swim spa is level and placed safely.
Similar to the concrete pad, depending on what type of installation you are looking for, there will be additional costs. If you're set on having an in-ground installation, it's worth spending some time speaking with your dealer on how much of an increase it will be on time, money and the installation process.
Similar to an in-ground installation, a semi-recessed one has similar considerations that will affect the overall delivery and installation cost. But most important for both of these types is having an access panel to at least one side to ensure maintenance can happen.
THE HYDROPOOL DIFFERENCE
Whichever installation you choose, your Hydropool retailer will help make the process as smooth as possible and inform you of the best way to achieve the installation you desire.
Check out our Executive collection and see some of the fantastic features you can have from the comfort of your own home.
Looking to find out more? Fill out our contact form and download our free brochure below.
Find Your Nearest Hydropool Showroom
Discover the Hydropool hot tub or swim spa that's right for you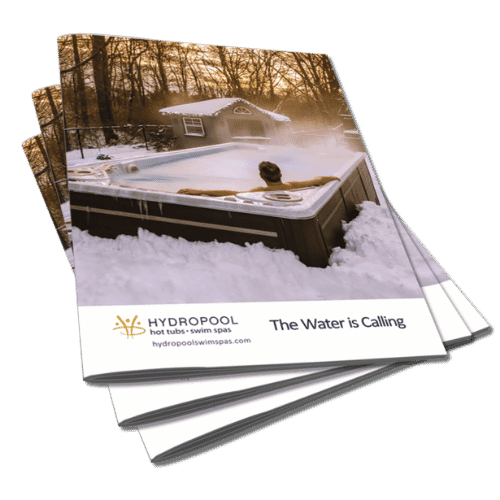 Free Hot and Swim Spa Brochure
Every Hydropool hot tub and swim spa is designed to exceed your expectations with superior ergonomic design, jet options and 10-year structural guarantee. Wet your appetite for supreme luxury with a little light reading. Download the latest Hydropool hot tub and swim spa brochures here.
Free Hot and Swim Spa Buyer's Guide
Whether it's staying active, defying stress, or combating pain, your Hydropool can and will help you be your best self. To help with your planning, explore our guide to assist your purchasing journey. Go a little deeper into the specs, and explore all the features and conditioning benefits of our world's only Self-Cleaning hot tubs & swim spas.