Maintenance & Energy Efficiency
HOW EASY AND EFFICIENT IS A SWIM SPA TO MAINTAIN?
How easily a swim spa can be maintained, and how energy efficient it is to use are common queries amongst potential owners, but there needn't be any concerns. Features found on swim spas like Hydropool's AquaSport and Executive Trainer, such as dedicated filtration jets, skimmers, pre-filters and built-in floor vacuum mean that keeping your swim spa clear, clean and in good working order needn't be a chore or an expensive pursuit. Similarly, an extensive range of thermal insulation methods ensures that heat is retained within the swim spa all year round and as little energy as possible is lost to the surrounding outside area.
FIND YOUR PERFECT SWIM SPA WITH OUR ONLINE TOOL
HOW DO SWIM SPAS FILTER WATER?
Our own self-cleaning swim spas filter 100% of their water in as little as 40 minutes which allows for a sustained level of water purity little found elsewhere. Floating debris on the surface of the swim spa is constantly directed towards the high flow skimmer, which conveniently collects unwanted matter in an easy-to-remove basket. Larger, heavier debris that sinks to the bottom of the swim spa shell is sucked up by a floor vacuum – technology brought over from our decades of know-how in self-cleaning traditional swimming pools.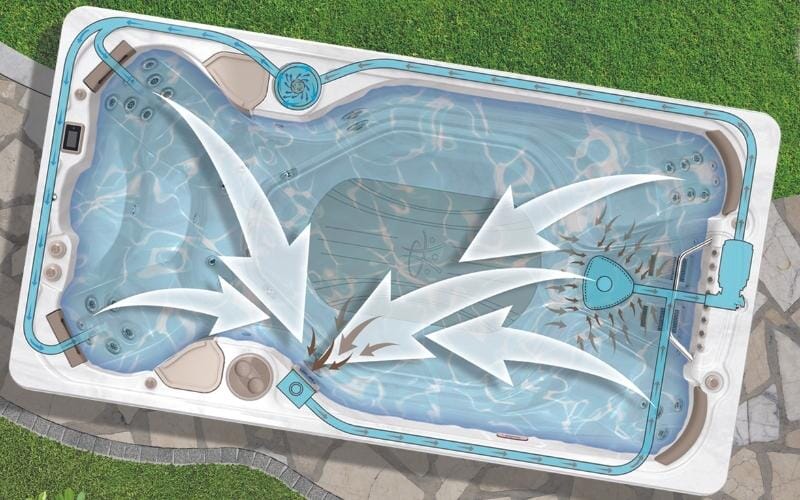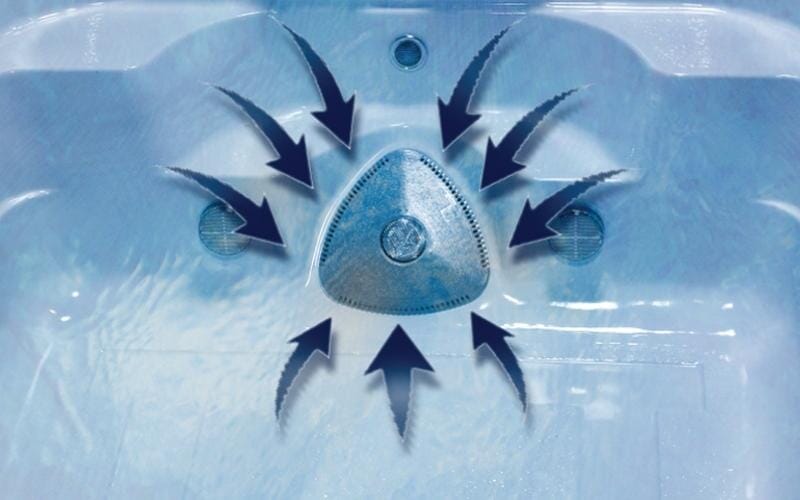 Between the skimmer, filtration jets and floor vacuum, no external equipment is needed giving you the ideal home wellness centre that doesn't take more time to maintain than it does to enjoy. An added benefit of this system is that it works in a more energy efficient way, meaning less energy is required to filter the same volume of water.
Hydropool's self cleaning swim spas also comprise water sterilisation technology in the form of our optional Pure Water System. UVC light is applied to water to deliver purification traditionally found in the medical industry which in turn lowers the need for as many chemicals in the water. Less dependency on chemicals can have added benefits beyond water treatment, such as reduced erosion of plumbing, pillows and covers.
HOW ENERGY EFFICIENT ARE SWIM SPAS?
Insulation forms a large part of energy efficiency in a swim spa. At Hydropool we insulate the pipes and internal shell which traps heat within the plumbing and lowers the level of energy required to maintain water temperature. Good quality insulation in a swim spa also has sound dampening properties so you and your family can enjoy water-based fun and fitness without any unwanted system noise in the background.
Furthermore, our swim spas are produced with an extra thermal applied along the bottom of the shell and inside the cabinetry. This heat-reflecting material traps residual thermal energy within the pipes that is created by hard-working components like pumps, which produce 1.5Kw of heat each. In a swim spa that doesn't feature thermal blankets, this heat would otherwise be lost out of the bottom and sides of the unit and cause the system to have to work harder to both heat up and maintain water temperature, in turn forcing energy usage to rise.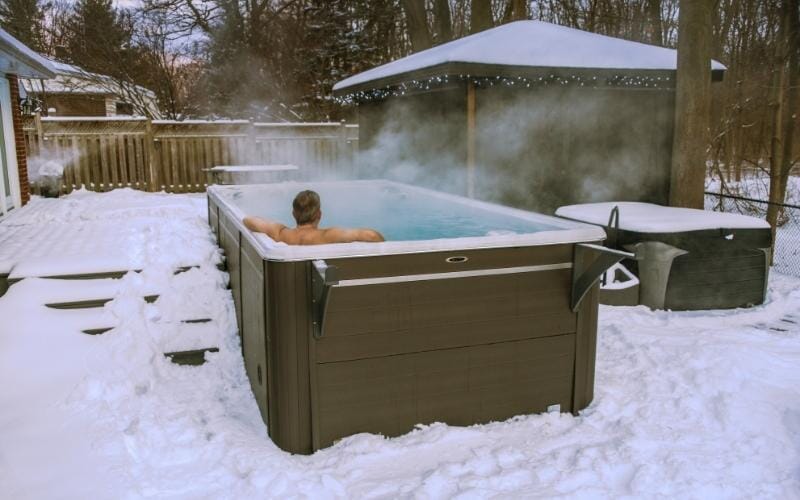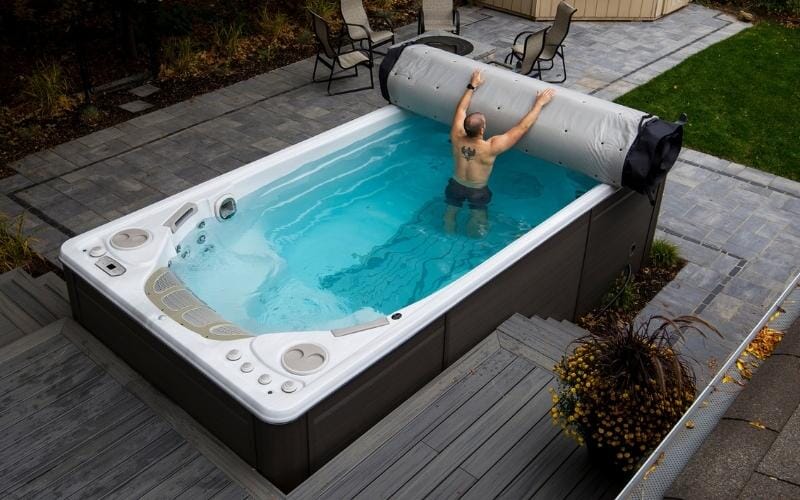 Swim spas should ideally offer an optional RollAway Cover or Hard Cover to be used all year round, as ours do. This not only protects the water from extra dirt landing from above, forcing the filtration system to work unnecessarily, but it works wonders for heat retention and preserving as much as possible of the energy used to heat the water. As most of the heat loss in a swim spa comes from above, a properly fitting, well-made cover will make a huge improvement to heat retention and therefore energy efficiency.
THE HYDROPOOL DIFFERENCE
Hydropool swim spas are fundamentally easy to maintain and efficient in their energy use. With the right combination of filters and cleaning systems, a swim spa is far from being a nuisance when it comes to maintenance. Catching, filtering and processing all manner of dirt and debris in an entirely automated way makes a swim spa far more self-reliant than some preconceptions, and advanced water purification add-ons make for water that required minimal extra input from you, the owner.
You may have to top up chemicals from time to time and empty or replace filters every so often, but the brunt of the hard work is certainly bore by the swim spa itself. Ideal swim spa ownership is about maximising enjoyment for you and those around you, and ours are certainly designed to reduce maintenance tasks to an absolute minimum.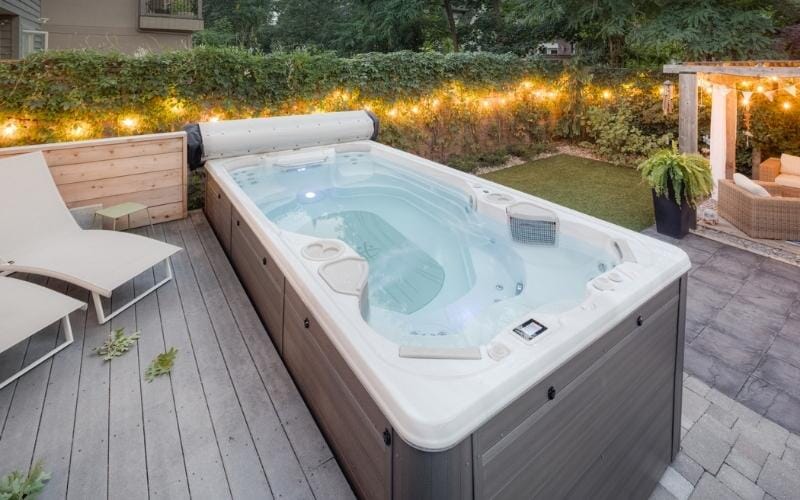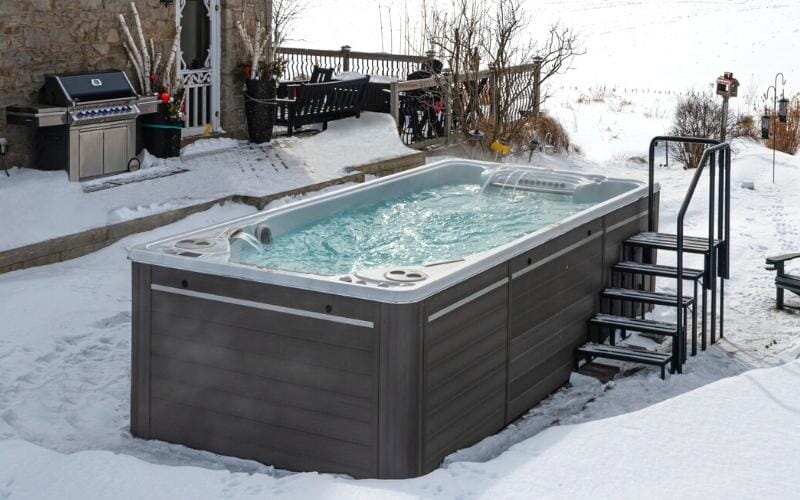 Similarly, every aspect of a swim spa's build is geared towards preserving thermal mass and keeping heat right where it needs to be; either in the water or throughout the surrounding shell.
Hydropool swim spas are constructed using insulated pipework and thermal blankets in and around the inside of the shell and cabinet, reflecting precious heat back in towards the plumbing and water. This means that your swim spa will ultimately require less energy to heat up and maintain water temperature and be far more efficient than without.
Find Your Nearest Hydropool Showroom
Discover the Hydropool hot tub or swim spa that's right for you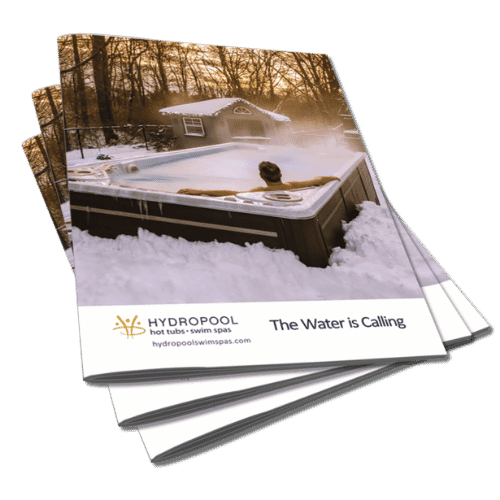 Free Hot and Swim Spa Brochure
Every Hydropool hot tub and swim spa is designed to exceed your expectations with superior ergonomic design, jet options and 10-year structural guarantee. Wet your appetite for supreme luxury with a little light reading. Download the latest Hydropool hot tub and swim spa brochures here.
Free Hot and Swim Spa Buyer's Guide
Whether it's staying active, defying stress, or combating pain, your Hydropool can and will help you be your best self. To help with your planning, explore our guide to assist your purchasing journey. Go a little deeper into the specs, and explore all the features and conditioning benefits of our world's only Self-Cleaning hot tubs & swim spas.