WHAT SIZE SWIM SPA IS RIGHT FOR YOU?
Hydropool produces some of the best swim spas on the market today. One of the reasons is our outstanding build and design, along with a wide selection of models and collections to choose from. But picking the right size for you depends on what you're looking for in a swim spa.
FIND YOUR PERFECT SWIM SPA WITH OUR ONLINE TOOL
WHAT SIZE SWIM SPA SHOULD YOU GET?
Hydropool provides a range of swim spas from 12.5 feet up to 19 feet long. Though the size varies, they'll consistently deliver a great swimming experience and can be a source of regular wellbeing. What size of swim spa you should invest in depends on your needs and how much space you have to accommodate it.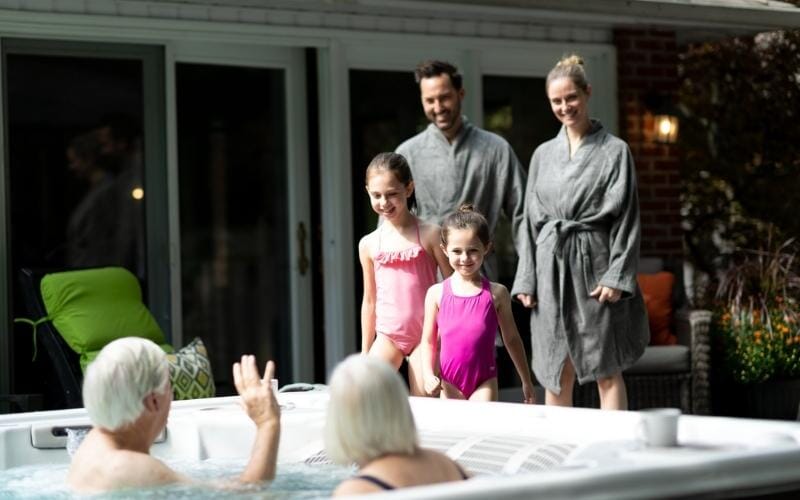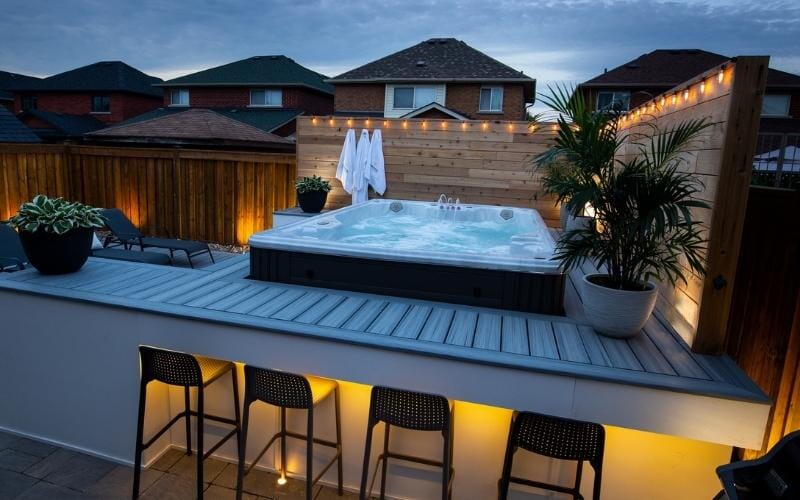 13 FOOT SWIM SPA RANGE
Acting as a spa swimming pool, our 12.5-foot 13FFP Family Fun Pool from the Play Collection gives you access to aquatic exercises and a swim current, while its main focus is to provide a centre for aquatic fun.
The 13FFP is perfect for someone looking for a more compact swim spa to fit into a smaller space and explore the health benefits of hydrotherapy and swimming with a focus on fun.
14 FOOT SWIM SPA RANGE
One of our most popular sizes, our 14.5-foot 14AX AquaSport provides you with a great aquatic workout and swim centre with hydrotherapy benefits and improved hydro technology for increased energy efficiency. Built with two AccuFlo jets and dual performance flow intakes, the water is circulated underneath the swim spa to provide a smooth and predictable swim current. Great for both an outdoor and indoor space, the AquaSport gives depth and length over the Family Fun Pool to provide extra room for aquatic exercises and swimming.
Similar to the AquaSport, our 14.5-foot 14AX AquaTrainer is one of our most popular swim spas, with a greater emphasis on providing a predictable current and utilising advanced hydro technology to produce a consistent swim current and resistance that can be shaped around your swim level. If you're looking to use the swim spa more for swimming than for fun but still concerned about space, then an AquaTrainer is a great choice. It provides you with a variable swim current, advanced hydromassage in the four contoured seats, as well as a great variety of aquatic workout options.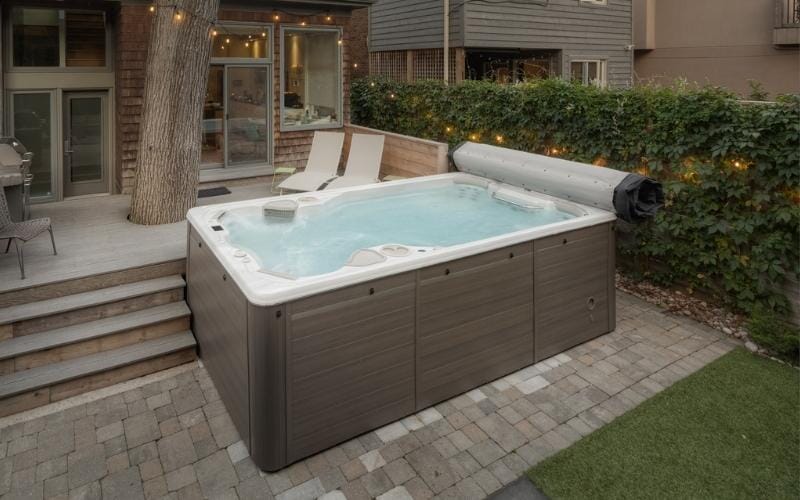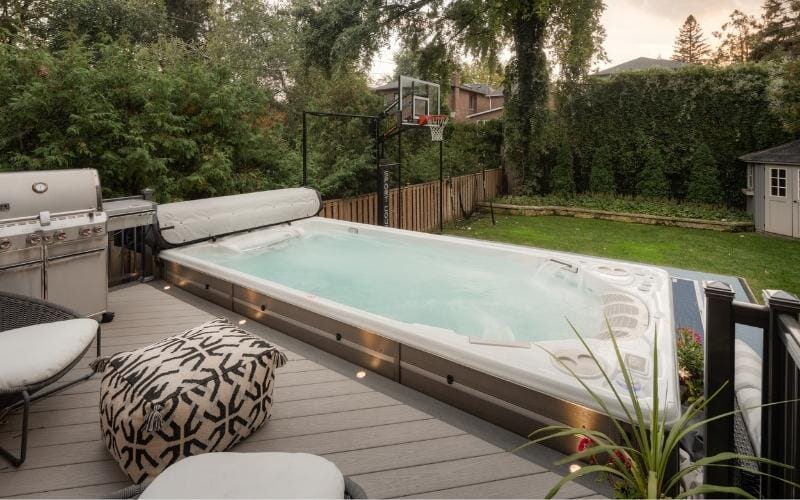 16 FOOT SWIM SPA RANGE
Increasing by one foot, our 15.5-foot 16EX swim spas are exclusive to the Executive collection, giving you greater freedom to move about and have fun in a larger space. Split between the Executive Sport and the Executive Trainer, 16EX swim spas provide the ideal combination of fitness and fun in a single package.
Designed for those looking to experience a more holistic aquatic exercises routine, the Executive Sport allows you to experience a comprehensive swim with variable speeds and create a fitness routine built around your goals.
The Executive Trainer, in comparison, focuses on the swimming experience, with a large footprint and advanced swim current to allow complete freedom of movement within the swim spa. For those taking their swim seriously, the Executive Trainer provides significant resistance and a strong adjustable current that can take your swimming fitness to the next level.
17 FOOT SWIM SPA RANGE
Our 17.5-foot 17AX AquaSport and AquaTrainer swim spas come as part of our Aquatic collection and have been designed with taller people in mind. With a greater depth and a height of just under 53-inches, 17AX swim spas give enough depth for those over six feet tall to have deep immersion when standing up, with plenty of length to swim comfortably.
Like all of our swims spas, you can expect advanced hydro technology to deliver a great swimming experience one moment and then a soothing hydromassage the next, thanks to the quick changing dials sending water to different parts of the swim spa.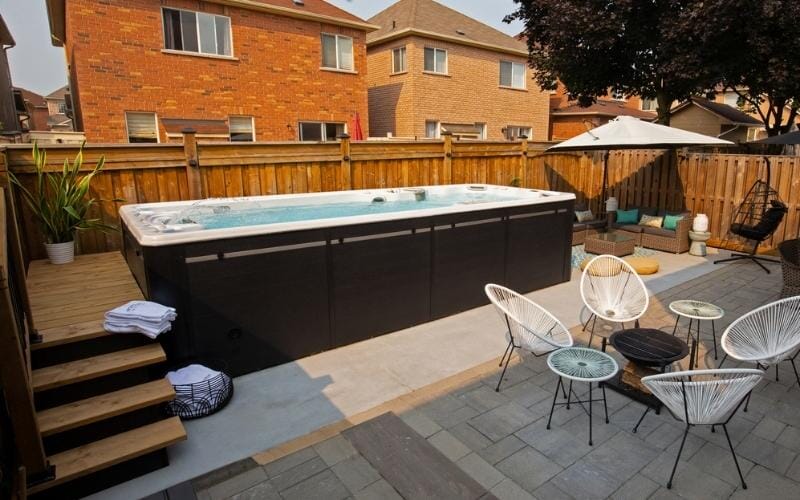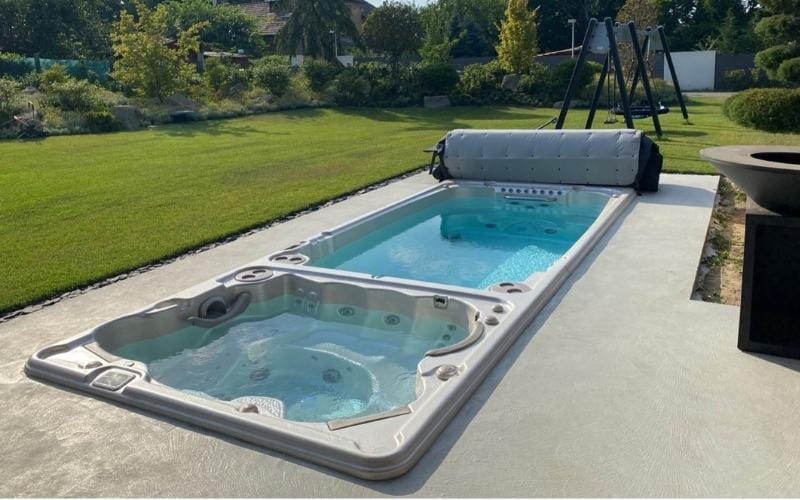 19 FOOT SWIM SPA RANGE
Our largest swim spas, the 18.5-foot 19EX Executive and 19 foot 19DTAX Aquatic swim spas, provide an incredible amount of space to perform aquatic-based workouts such as boxfit and rowing while also providing the best swim current Hydropool has to offer.
Spacious with complete control over the power of your swim, experience a powerful swim current without having to touch off anywhere. These ample swim spas are perfect for those taking their swimming seriously and triathletes seeking to improve, with speeds up to 11 kph and an underwater treadmill to track calories burned, distance travelled and average speed.
Exclusively, our 19-foot AquaTrainer 19DTAX swim spa combines a swim spa with a hot tub to create the best of both products, allowing you to work out or have a great swim before relaxing and recovering with a fantastic hydromassage.
WHAT'S YOUR FOCUS FOR A SWIM SPA?
FOCUSING ON SWIMMING
If you are searching for the best swimming experience on the market today, our Aquatic and Executive swim spas will provide you with an unparalleled swim. These models incorporate advanced technology with an emphasis on providing you with a variable swim current that's not only smooth but predictable, and as natural as nature itself.
FOCUSING ON FITNESS, HEALTH AND WELLBEING
If you're seeking to enhance your fitness levels, improve your general health and wellbeing, and create a regular fitness routine based around aquatic exercises, then any of our Aquatic or Executive models will deliver what you need. For more advanced training routines, AquaTrainer and ExecutiveTrainer swim spas are highly recommended.
FOCUSING ON FUN
If you're looking for a swim spa that is all about the fun, and you're less concerned with the advanced training and exercise routines, then the 13FFP, the AquaSport or the ExecutiveSport swim spa will be perfect for your needs. Not only will it give you hours of fun but be a place where you can relax and get a great massage.
THE HYDROPOOL DIFFERENCE
Whatever size you're looking for, Hydropool swim spas can be relied upon to deliver a fantastic swim experience with a versatile current and resistance while providing a great hydromassage, fun play area and aquatic fitness centre, all in one.
Explore the whole range of Hydropool swim spas in our free brochure. Just fill out the contact form below and start downloading today.
Find Your Nearest Hydropool Showroom
Discover the Hydropool hot tub or swim spa that's right for you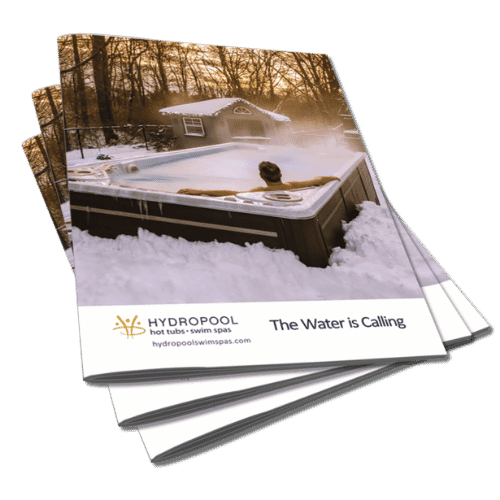 Free Hot and Swim Spa Brochure
Every Hydropool hot tub and swim spa is designed to exceed your expectations with superior ergonomic design, jet options and 10-year structural guarantee. Wet your appetite for supreme luxury with a little light reading. Download the latest Hydropool hot tub and swim spa brochures here.
Free Hot and Swim Spa Buyer's Guide
Whether it's staying active, defying stress, or combating pain, your Hydropool can and will help you be your best self. To help with your planning, explore our guide to assist your purchasing journey. Go a little deeper into the specs, and explore all the features and conditioning benefits of our world's only Self-Cleaning hot tubs & swim spas.